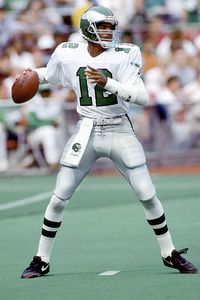 US Presswire
Randall Cunningham knew a thing or two about coordinating his shoes and socks.
October 18, 1992: Randall Cunningham became a videogame legend playing the part of QB Eagles in Nintendo's 1991 cult classic Tecmo Super Bowl. But it wasn't until 18 years ago today that he became an NFL record holder as well.
Cunningham headed into a Week 7 matchup against the rival Redskins needing just 30 rushing yards to eclipse Fran Tarkenton's mark of 3,674 yards, the NFL record for most rushing yards by a quarterback. On five rushing attempts, the 29-year-old Eagles quarterback gained 39 yards, giving Cunningham sole possession of the NFL record with 3,683. Unfortunately, the Eagles lost to the Skins 16-12 that day so he couldn't celebrate too much.
Cunningham played another nine seasons before retiring in 2001 with 4,928 career rushing yards. He still holds the NFL record for the most by a quarterback to this day.