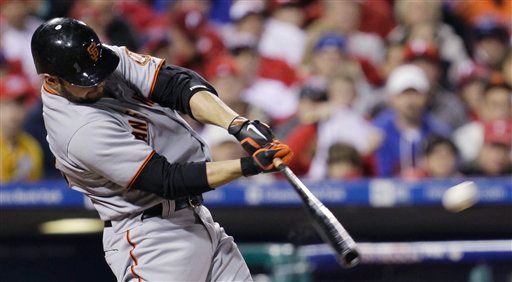 AP Photo/David J. Phillip
Cody Ross Plays Hero for the Giants as Tim Lincecum Outduels Roy Halladay
Game 1 of the NLCS goes to the visiting Giants. CF Cody Ross hit a pair of solo homers to help San Francisco earn the 4-3 win. Both team's starters, Tim Lincecum and Roy Halladay, gave up homers to the No. 8 hitters. Brian Wilson earned the save. Game 2 is Sunday night (8 ET, FOX).
No. 18 Wisconsin 31, No. 1 Ohio St. 18
Number one not for long. The top-ranked Ohio State Buckeyes fell to No. 18 Wisconsin 31-18 on Saturday night. The Badgers scored on David Gilreath's 97-yard kickoff return 12 seconds into the game, and never looked back. Wisconsin RB John Clay rushed 21 times for 104 yards and 2 TDs in the win. Ohio State QB Terrelle Pryor went 14 of 28 for 156 yards with 1 INT in defeat.
Brett Favre to Meet With NFL Official
NFL security chief Milt Ahlerich will interview Brett Favre on Tuesday. This according to league commissioner Roger Goodell, who said the interview is part of an investigation into allegations that the quarterback sent racy e-mails and lewd photos to a Jets game hostess in 2008 when he played for New York.
Rangers Top Yankees to Even Series at 1-1
The Rangers started fast again, but this time they held off the Yankees for a Game 2 ALCS win. Texas built an early 5-0 lead and stayed ahead to win 7-2, snapping its 10-game postseason losing streak against New York. Rangers LF David Murphy went 2 for 3 with 2 RBI, including a solo HR in the second inning during the win. The series is now tied at one game apiece. Game 3 is set for Monday night (8 ET, TBS).
Purdue senior forward Robbie Hummel will miss the 2010-11 season after tearing the same ACL that sidelined him for much of last season. Hummel suffered the right-knee injury in practice on Saturday. The fourth-year senior, who never redshirted, can return for a fifth season.
Auburn Takes Charge After Arkansas Loses Ryan Mallett in High-Scoring Affair
The No. 12 Razorbacks lost Ryan Mallett (concussion) and the game to the No. 7 Tigers 65-43 on Saturday. The teams combined on a record for points in a Southeastern Conference game that didn't go to overtime. Tigers QB Cam Newton ran for 188 yards, passed for 140 more, totaling 4 TDs in the win.
LeBron James Returns to Practice
LeBron James' ailing right hamstring is getting better. James returned to practice with the Heat on Saturday, reporting no problems with the injury. The NBA's two-time reigning MVP was sidelined by a sore hamstring during an exhibition game against CSKA Moscow on Tuesday and had not played or practiced since.
Texas Holds Off Taylor Martinez to Upset Nebraska
The No. 5 Cornhuskers were looking for redemption on Saturday against the Longhorns, but again fell in defeat. Texas rushed for 209 yards and two TDs in the 20-13 upset of the Huskers, who were out to avenge last year's loss in the Big 12 championship game.
Report: Brewster Out at Season's End
Tim Brewster's time as Golden Gophers head coach is nearing its end. This according to multiple reports, including 5 Eyewitness News, 1500 ESPN and the GopherIllustrated.com website, who report Brewster has been informed he will not be retained after the 2010 season ends. The Gophers dropped their sixth straight game Saturday, losing 28-17 to Purdue.
Jamie McMurray Wins in Charlotte
Jamie McMurray held off playoff heavyweights Kyle Busch and Jimmie Johnson to win the Bank of America 500 at Charlotte on Saturday. McMurray picked up another victory in his comeback season by beating all the championship contenders at Charlotte Motor Speedway.
Note: The Elias Sports Bureau, ESPN Stats and Information group and The Associated Press contributed to this report.