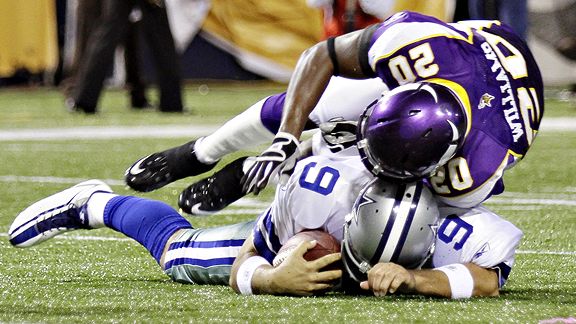 AP Photo
NFL
Now on ESPN.com, Matt Mosley writes -- the Cowboys failure to close the game against the Vikings cost them another game and quite possibly, the season:
The Jets earned a defining win over the Denver Broncos. Now on ESPNNY.com, Rich Cimini breaks down how Gang Green earned its fifth straight win:
The Bears defense has been less than stellar. Now on ESPNChicago.com, Jon Greenberg explains why the weight of the season rests on the shoulders of the D and special teams:
Now on ESPN.com, Paul Kuharsky previews the Titans-Jaguars Monday Night Football matchup in the AFC South Blog:
After the jump - links to stories on Cliff Lee, Roy Oswalt, Cody Ross, Oklahoma football, the Pac-10, Kobe Bryant, The 'other' Heat players, Robbie Hummel, Nick Leddy and Sheldon Souray.
MLB
In baseball's most visible month, Cliff Lee stands out as its most important player. Now on ESPN.com, Howard Bryant explains why Lee is second to none:
Now on ESPN.com, Jayson Stark explains how Roy Oswalt changed the complexion of the series in Game 2 of the NLCS:
Now on ESPN.com, Wayne Drehs writes, even in a Game 2 loss against the Phillies, Cody Ross has stepped back into the spotlight:
COLLEGE FOOTBALL
The new BCS standings say the Oklahoma Sooners are the No. 1 team in college football. Do you agree? Log and and Rank your top 25 now!
Now on ESPN.com, Ted Miller writes, the Pac-10 has always had a wild side, but the huge score swings each week has made 2010 wilder than usual:
NBA
Now on ESPNLosAngeles.com, Andy Kamenetzky explains why Kobe's 19 third quarter points Sunday were the best evidence yet that his knee is improving:
Now on ESPN.com, Michael Wallace explains why injuries have given the Miami Heat's other Big 3 major playing time:
COLLEGE BASKETBALL
Robbie Hummel re-tearing his ACL devastates Purdue. Now on ESPN.com, Dana O'Neil breaks down the parallel path between Robbie Hummel and Curtis Sumpter:
NHL
Now on ESPNChicago.com, Jesse Rogers explains why Nick Leddy's demotion was a bit surprising:
Now on ESPN.com, Pierre LeBrun looks at a new OT plan and the Sheldon Souray drama in his NHL Cross Checks Blog: