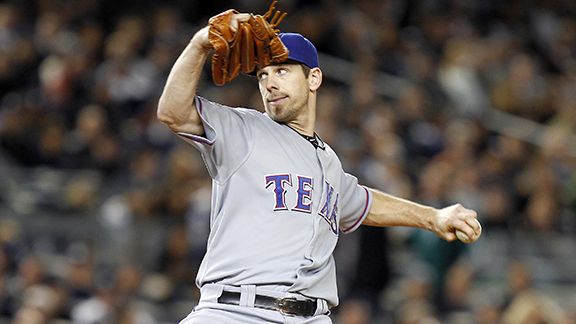 William Perlman/The Star-Ledger/US Presswire
Cliff Lee Shuts Down Yankees in Rangers 8-0 Win
Cliff Lee's mastery of the postseason continued in Monday night's 8-0 win against the Yankees. Lee pitched eight innings, allowed 2 hits and struck out 13 during the Game 3 win. Andy Pettitte lasted seven innings, allowed five hits and two runs, on a Josh Hamilton HR in the first inning. The Rangers lead the ALCS 2-1. Game 4 is Tuesday night.
Vince Young Sprains Knee in Victory Against Jags
The Titans and Jaguars lost their starting QBs to injury during the Titans 30-3 win Monday night. Vince Young sprained his knee in the first quarter and Jags QB David Garrard sustained a concussion in the second quarter, neither returned. Kerry Collins replaced Young and went 11 of 16 for 110 yards and 1 TD. Chris Johnson rushed for 111 yards and 1 TD during the win.
NFL Might Start Suspending For Violent Hits
The NFL is taking serious action against violent helmet-to-helmet hits. ESPN Senior NFL analyst Chris Mortensen reports that even first-time offenders will face suspension for "devastating hits" and "head shots," according to Ray Anderson, the league's executive vice president of football operations. An official announcement is expected by Wednesday.
LeBron James Shines, Mike Miller Injures Ankle in Loss to Bobcats
LeBron James scored 33 points, and added 4 rebounds, 5 assists and 3 steals in 29 minutes of action Monday night. James made 10 of his 17 shots, and went 12 of 13 from the free throw line, during a 102-96 loss to the Charlotte Bobcats. D.J. Augustin led the Bobcats with 19 points in the win.
Sources: Bill Parcells Leaves Offices
Bill Parcells is still working as a consultant for the Dolphins, but he is no longer part of the day-to-day decisions and activities of the team, league sources told ESPN NFL insider Adam Schefter. Parcells has packed his bags and moved out of the Dolphins offices, even though he will be paid by the team through 2011.
Tiger Woods Still Hopeful For Win in 2010
Tiger Woods said Monday he is more at peace with his personal life than when he returned to golf in April, and is hopeful that his season won't end without a victory. "I learned a lot about myself, and I learned how things went wrong, why they went wrong, and had to take a pretty deep and introspective look at myself. And there wasn't a lot of things I like about it," Woods said during a video conference call for his Chevron World Challenge, to be played December 3-6 at Sherwood Country Club.
Tony La Russa Has New Deal With Cards
The St. Louis Cardinals brought back Tony La Russa for a 16th year as manager. The team said the skipper's new deal includes a mutual option for the 2012 season. Financial terms were not disclosed. The 66-year-old La Russa has a franchise-record 1,318 wins, including a World Series title in 2006, since joining the team as manager in 1996.
Mariners Hire Eric Wedge As Manager
The Seattle Mariners announced Eric Wedge as their new manager on Monday. The hiring makes Wedge Seattle's seventh manager since 2003. The Mariners are coming off their second 101 loss campaign in the past three seasons.
Magic Sells Ownership Stake In Lakers To Doctor
Magic Johnson sold his shares in the Los Angeles Lakers, the team announced on Monday. Johnson said in a statement, "This was a bittersweet business decision made on behalf of my family and myself, and I want to assure all the wonderful and loyal Lakers fans that my decision will in no way affect my dedication and support for the Los Angeles Lakers. I am and will always be a Laker for life." Johnson has been with the franchise for 28 years as a player, owner and coach.
Seau Car Off Cliff After Domestic Violence Arrest
Former All-Pro linebacker Junior Seau escaped serious injury early Monday morning. Seau drove his SUV off a cliff in Southern California just hours after he was arrested on a charge of felony spousal assault with injury. An ongoing investigation continues, but Carlsbad police dispatcher Matthew Pinell said late Monday that alcohol and drugs are not suspected to be factors in the crash "at this time."
Note: The Elias Sports Bureau, ESPN Stats and Information group and The Associated Press contributed to this report.