THE UPS AND DOWNS OF CLIFF LEE
The Ups: Cliff Lee rang up 13 Yankees (that tied a career high) and rang up his seventh win (without a loss) in eight career postseason starts.
The Downs: Lee shut out the Yankees over eight innings (Neftali Feliz took care of the ninth) and dropped his career postseason ERA down to a mere 1.26. Only Sandy Koufax (see: 0.95 ERA in 7 starts) and Christy Mathewson (see: 1.06 ERA in 11 starts) ever went down lower.
So even his downs are ups. It's like he's riding an 'up' escalator and can't get down. It's like he's this guy.
Recap | Cliff Lee Postgame Reaction
More from the ALCS, including why A.J. Burnett wants to be like Bullet Joe Bush, after the jump.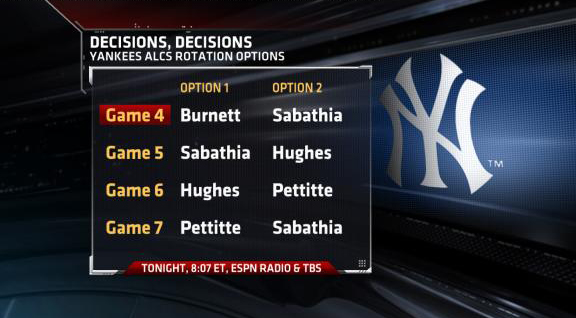 Down 2-1 in the ALCS, the Yankees have some options on how to set their rotation going forward. A.J. Burnett is scheduled to start at the Stadium in Game 4 tonight (8:07 ET). He lost 15 games this year, which means he's tied with Catfish Hunter for the second-most losses by a pitcher to start a postseason game in Yankees history. Only Bullet Joe Bush was a bigger loser. He started Game 5 of the 1923 World Series after losing 16 games. All Bullet Joe did was fire a complete game 3-hitter at the New York Baseball Giants in an 8-1 win. So this might be a good time to mention that Burnett has been excellent in his 3 career postseason home starts, going 3-0 with a 1.86 ERA.