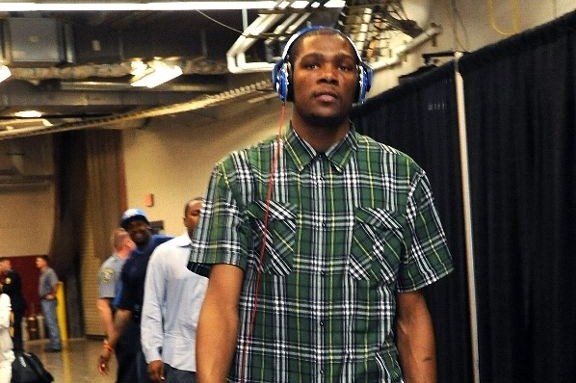 Getty Images
Kevin Durant could be this season's MVHW (Most Valuable Headphones Wearer).
Skullcandy, a Utah-based company that makes headphones, had an offseason they'd like to forget. That's because former endorser LeBron James took his talents elsewhere and partnered up with Dr. Dre and Monster to create his own line of sports headphones, now available in Miami Heat red, white and black for $179.95 a pair. James' departure from the NBA Player Series left Skullcandy with a major void at the small forward position. However, unlike in the NBA, franchise players are replaceable in the headphone-wearing world.
According to kevindurant35.com, last year's NBA scoring champ has inked a deal with Skullcandy and he's bringing along Thunder teammate James Harden for the ride. Not a bad deal: LeBron for Durant and Harden. In fact, we kinda like Skullcandy's end of the deal.
With the recent addition of Oklahoma City's top guns, Skullcandy has formed a new team dubbed the "Skullcandy Crew" featuring Deron Williams, Derrick Rose, Andre Iguodala, Kevin Durant and James Harden. And if you're curious about what the crew will be listening to on their brand new signature headphones, check out their bios.
Before he steps foot on the court, D-Rose zones out to Young Jeezy and Tupac, but the Bulls point guard also has a soft spot for Phil Collins. Unfortunately, there's no video of Rose belting out Collins' Against All Odds.
As for Durant, Rick Ross' B.M.F. (Blowin' Money Fast) is his go-to song, but he also enjoys Usher, Beyonce and slow jams. It's too bad he was only 3 years old when Boyz II Men released their debut album Cooleyhighharmony ... he really missed the boat on Motownphilly.