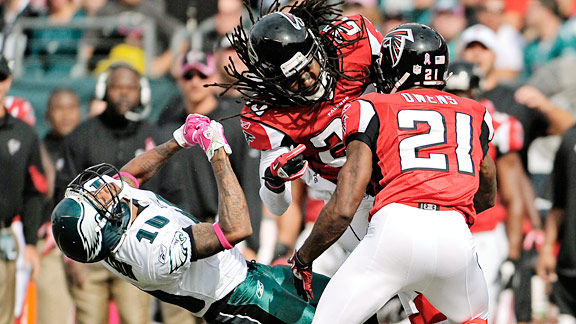 US Presswire
Source: NFL's Fines For 3 Players Total $175K
A source told ESPNBoston.com that Patriots safety Brandon Meriweather, who put a vicious helmet hit on Ravens tight end Todd Heap in New England's victory Sunday, earned a $50,000 fine but will not be suspended. ESPN senior NFL analyst Chris Mortensen learned that Steelers LB James Harrison, who laid out two Browns players, would be fined $75,000 as a repeat offender, but also would not incur a suspension. Falcons defensive back Dunta Robinson also was fined Tuesday, Mortensen reports -- $50,000 for his collision with Eagles receiver DeSean Jackson. Both players were knocked out of the game and suffered concussions when Robinson launched himself head first into the receiver.
Sources: Favre's Meeting With NFL Complete
The meeting between Vikings quarterback Brett Favre and NFL Security vice president Milt Ahlerich on Tuesday has been completed, sources told ESPN's Ed Werder. No details were immediately available. The NFL wanted to meet with Favre over allegations that he sent lewd photos and inviting text messages and voicemails to a female employee of the New York Jets two years ago, back when both were with the franchise. The woman, Jenn Sterger, has not commented about the allegations posted on the Deadspin website. Ahlerich and his security department have had no success in attempts to interview Sterger.
Performance-Enhancing Shoe? NBA Bans Kicks
The NBA is prohibiting its players from wearing a new line of sneakers that claims to increase vertical leap. "Under league rules, players may not wear any shoe during a game that creates an undue competitive advantage," the NBA said in a statement Tuesday. Athletic Propulsion Labs' $300 Concept 1 shoe employs a spring-based system designed to increase lift.
The Associated Press contributed to this report.