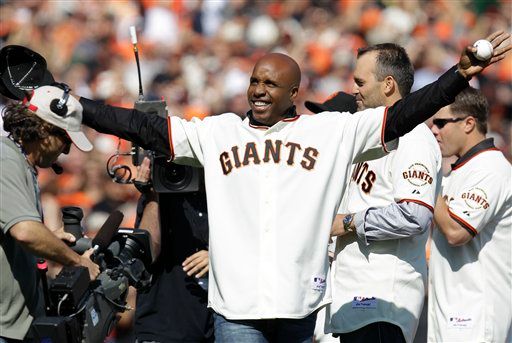 Former Giants Barry Bonds acknowledges the crowd before throwing out a ceremonial first pitch before Game 3 of the NLCS against the Phillies. AP Photo/David J. Phillip
Matt Cain Shines And Cody Ross Stays Hot As Giants Blank Phillies
Cody Ross keeps doing his best Barry Bonds imitation. With the home run king watching and cheering from a front-row seat, Ross delivered again, Matt Cain outdueled Cole Hamels and the San Francisco Giants beat the Philadelphia Phillies 3-0 Tuesday for a 2-1 lead in the NL Championship Series.
Rangers Hammer Yankees 10-3, Can Win Series Wednesday Afternoon
Bengie Molina's long three-run drive off A.J. Burnett put Texas ahead in the sixth inning, Josh Hamilton added a pair of solo homers to raise his total to four in four games and the Rangers battered the New York Yankees 10-3 Tuesday night for a 3-1 lead in the AL championship series.
Source: NFL's Fines For 3 Players Total $175K
A source told ESPNBoston.com that Patriots safety Brandon Meriweather, who put a vicious helmet hit on Ravens tight end Todd Heap in New England's victory Sunday, earned a $50,000 fine but will not be suspended. ESPN senior NFL analyst Chris Mortensen learned that Steelers LB James Harrison, who laid out two Browns players, would be fined $75,000 as a repeat offender, but also would not incur a suspension. Falcons defensive back Dunta Robinson also was fined Tuesday, Mortensen reports -- $50,000 for his collision with Eagles receiver DeSean Jackson. Both players were knocked out of the game and suffered concussions when Robinson launched himself head first into the receiver.
There's a definite AFC influence in the top of the Week 7 ESPN.com NFL Power Rankings. Once again the Pittsburgh Steelers lead the pack, slightly edging the New York Jets for the top slot. The New England Patriots, Baltimore Ravens and Indianapolis Colts round out the Top 5. The No. 6 New Orleans Saints emerge as the top-rated NFC team.
Cubs Pick Mike Quade As Manager
The Chicago Cubs removed the interim tag from Mike Quade and named him the manager with a two-year deal and a club option for 2013. The job will be his first as a major league manager. Quade, 53, took over for the retired Lou Piniella on Aug. 23 and guided the Cubs to a 24-13 record down the stretch. That was the second-best mark in baseball over that period. Quade's contract is expected to be worth between $1.8 million and $2 million.
Celtics' Rivers Cancer-Free After Having Biopsy
Boston Celtics coach Doc Rivers underwent a biopsy Sunday morning at a Boston-area hospital to determine if lesions found on his throat were cancerous. The test results came back negative and Rivers can now joke about the scare. "I'm going to be around for a little while, it looks like," Rivers said after Boston's open practice Tuesday night at TD Garden. "I'm sure that disappoints everyone."
Sources: Favre's Meeting With NFL Complete
The meeting between Vikings quarterback Brett Favre and NFL Security vice president Milt Ahlerich on Tuesday has been completed, sources told ESPN's Ed Werder. No details were immediately available. The NFL wanted to meet with Favre over allegations that he sent lewd photos and inviting text messages and voicemails to a female employee of the New York Jets two years ago, back when both were with the franchise. The woman, Jenn Sterger, has not commented about the allegations posted on the Deadspin website. Ahlerich and his security department have had no success in attempts to interview Sterger.
Cowboys Adopt College Celebration Rules
After getting a post-touchdown penalty for the second consecutive week, Cowboys coach Wade Phillips ordered his players to abide by college celebration rules. The NCAA rule book states that "after a score or any other play, the player in possession immediately must return the ball to an official or leave it near the deadball spot."
Vick: I'm Taking "Time To Heal"
Eagles QB Michael Vick is on the same page as coach Andy Reid, Vick said Monday night, about "taking time to heal" and presumably giving Kevin Kolb another start Sunday at Tennessee. "I went and met with the doctor this morning. The movement's still not there; the mobility's still not there in my upper chest," the Eagles quarterback said in his weekly appearance on the Tony Mercurio show on ESPN 94.1-FM, in his hometown of Virginia Beach, Va. "We've just got to take our time and re-evaluate the situation and make sure we do what's best for the team."
Man U's Manager Says Wayne Rooney Wants Out
Manchester United manager Alex Ferguson confirmed that Wayne Rooney wants to leave the Premier League club. "We have had a discussion about the whole situation. The player says he is adamant he wants to leave," Ferguson said, adding he is "dumbfounded" by Rooney's decision, adding "only months before, he was saying he was at the greatest club in the world." Negotiations between Rooney and the club have broken down, with his contract expiring in 2012.
The Associated Press contributed to this report.