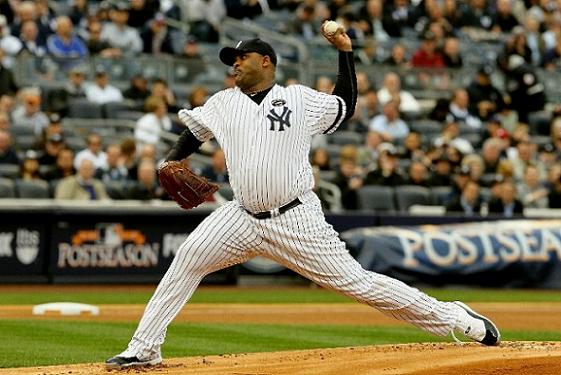 Getty Images
CC Sabathia pitched 6 innings, gave up 2 runs and struck out 7 for the victorious Yankees in game 5.
CC Sabathia Controls Rangers As Yankees Send ALCS Back To Texas
The former closer failed to close out the New York Yankees. C.J. Wilson wasted his chance to pitch the Rangers into their first World Series, allowing back-to-back homers Wednesday in a 7-2 loss that trimmed Texas' lead to 3-2 in the best-of-seven AL championship series.
Juan Uribe hit a game-ending sacrifice fly off reliever Roy Oswalt with one out in the ninth inning and the San Francisco Giants moved within one win of the World Series, beating the Philadelphia Phillies 6-5 Wednesday night for a 3-1 lead in the NL championship series.
Steelers' Harrison Mulling Retirement
The Pittsburgh Steelers excused James Harrison from practice Wednesday as the Pro Bowl linebacker contemplated retirement, according to his agent. Harrison's agent Bill Parise said Wednesday his client is "very serious" about retiring after getting fined $75,000 for a hit that knocked Mohamed Massaquoi out of the Steelers' win over the Cleveland Browns. Harrison met Wednesday with Steelers coach Mike Tomlin, who excused his linebacker from the Steelers preparations for Sunday's game against the Dolphins.
Meriweather: 'Sorry' For Hits That Brought Fine
New England Patriots safety Brandon Meriweather, who was fined $50,000 by the NFL for two helmet-to-helmet hits on Baltimore Ravens tight end Todd Heap in Sunday's win over the Ravens, told reporters in the locker room Wednesday that he was "sorry for the hit" and that he wants to move on. "Once again, I'm going to say I'm sorry for the hit. I understand the league is trying to protect the health of all our players," Meriweather said before a brief pause in which he might have been fighting to keep his emotions in check.
NFL Will Stop Selling Photos Of 'Illegal Plays'
The NFL made a "mistake" having photos of Pittsburgh Steelers linebacker James Harrison's hit on Cleveland Browns receiver Mohamed Massaquoi available for sale through its website and will take the photos down, spokesman Greg Aiello said Wednesday. "We regret the mistake," Aiello said. "The photos will be taken down and we will ensure that no photos of illegal plays will be available again."
Kevin Kolb To Start vs. Titans
Philadelphia Eagles coach Andy Reid said Wednesday that Kevin Kolb will be his starting quarterback for Sunday's game against the Tennessee Titans. It will be the third straight start for Kolb and the fourth straight game in which he has seen extensive action in the wake of the rib injury Michael Vick suffered in an Oct. 3 loss to the Washington Redskins.
Colts Pat McAfee Charged, Suspended 1 Game
Indianapolis suspended punter Pat McAfee for one game on Wednesday, a little more than 12 hours after the 23-year-old was arrested for public intoxication. Police said McAfee took a pre-dawn swim in a city canal and told them "I am drunk" as he tried to explain why he was sopping wet in the Broad Ripple neighborhood, a trendy area known for its nightlife.
NFL To Create Report On Favre Meeting
According to ESPN's ED Werder, NFL VP of Security Milt Ahlerich will create a report from the interview he conducted with Brett Favre, and that material will be reviewed by other league officials involved in this investigation. They will make a determination on whether others should be interviewed based on that and renew efforts to convince former Jets employee Jenn Sterger and two team massage therapists to speak.
Rick Rypien Suspended Indefinitely
Vancouver Canucks forward Rick Rypien was suspended indefinitely Wednesday pending a hearing for grabbing a fan while heading to the dressing room in the game against the Minnesota Wild. A Friday morning hearing in New York has been set for Rypien, commissioner Gary Bettman and NHL disciplinarian Colin Campbell.
Wayne Rooney Confirms Intention To Leave Manchester United
Wayne Rooney says he wants to leave Manchester United because the club hasn't promised to make big enough investments in the squad. The England striker has almost two years remaining on his contract, but has told United that he doesn't want to sign the new deal that had been offered. Rooney said Wednesday that he met with chief executive David Gill last week and was not given the assurances he was seeking about the future squad. Rooney says he has told the 18-time English champions that he "would not be signing a new contract."
The Associated Press contributed to this report.