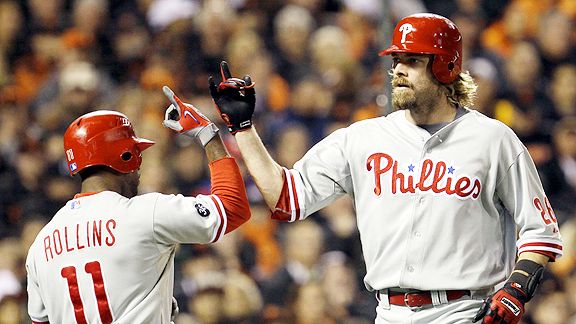 AP Photo/David J. Phillip
Roy Halladay Lifts Phillies Past Giants
Roy Halladay outdueled Tim Lincecum in a rematch of aces, keeping Philadelphia alive with a 4-2 victory over the San Francisco Giants on Thursday night that pulled the Phillies within 3-2 in the NL championship series. The two-time reigning NL champions forced a Game 6 back home in Citizens Bank Park on Saturday and another cross-country trip.
Pac-12 Divisions Split Calif. Schools, Keep Rivals
It's gonna cost some serious cash, but when the Pac-10 expands to 12 schools next year, the football teams will be separated - north and south. Stanford and CAL join the Washington and Oregon schools in the north. Newcomers Utah and Colorado will pair up with the Arizona's and USC/UCLA in the south. The catch? USC and UCLA don't like the plan. So, according to the Seattle Times, the league will pay both LA schools $2 million each PER YEAR until the conference is thriving financially. The hang-up for the LA schools --- THIS realignment separates all the alums of California schools who settled in a different part of the state. The rest of the conference seemed to agree, though, putting the Bay Area schools in the SOUTH would have left the North too weak, historically & competitively.
James Harrison Returns To Steelers
Linebacker James Harrison has returned to the Pittsburgh Steelers, one day after he threatened to retire because of the NFL's stricter enforcement of dangerous hits. Harrison, a three-time Pro Bowl linebacker, was given a cooling-off day Wednesday by coach Mike Tomlin and was told to skip practice. Harrison became upset after the league fined him $75,000 for a helmet hit Sunday on Browns receiver Mohamed Massaquoi. Harrison was not penalized on the play.
Stern Wants NBA Player Salaries Cut
NBA commissioner David Stern said Thursday there was no quantifiable progress in collective bargaining talks over the summer, and the league revealed it is seeking a reduction in player salary costs by about one-third. Stern said the league wants player costs to drop $750 million to $800 million. Deputy commissioner Adam Silver said the NBA spends about $2.1 billion annually in player salaries and benefits. "We would like to get profitable, have a return on investment," Stern said. "There's a swing of somewhere in the neighborhood of $750 to $800 million that we would like to change. That's our story and we're sticking with it."
Colts' Clark Out Indefinitely; Collie Has Surgery
Two of Peyton Manning's top three targets will be sidelined in the short term and in the case of tight end Dallas Clark, possibly for the long term. Indianapolis Colts president Bill Polian said Thursday that Clark -- the team's third-leading receiver -- will be out indefinitely with a wrist injury. And Austin Collie, the Colts' second-leading receiver, underwent hand surgery. Collie is expected to be sidelined "a few weeks," a team source told ESPN NFL Insider Adam Schefter.
LeBron James Understands Fans' Anger
If LeBron James wasn't LeBron James and instead was a Cavaliers fan living in Akron he might not like himself all that much right now. James said he can relate to why many fans, especially from his home state, continue to be angry at him. But he also said people upset with his decision to sign with the Heat need to move on. "If I was a fan and I was on the outside looking in, I could be upset a little bit if one of my favorite players left," James said. "Or if I felt like he betrayed us or whatever the case may be. But you have to get over it."
Heat Might Lose Injured Miller For Several Weeks
A freak injury to Mike Miller's right thumb is expected to keep one of the NBA's top 3-point shooters sidelined for several weeks -- yet another blow to the injury-prone Miami Heat. Miller was injured when the thumb on his shooting hand got tangled in a teammate's jersey during practice Wednesday. The Heat have not revealed a formal diagnosis or possible recovery time, only saying that more tests were scheduled on Thursday.
Preseason Top 25: Defending Champion Duke Opens At No. 1
Defending champion Duke begins the 2010-'11 men's college basketball season on top of the preseason ESPN/USA Today coaches' poll. The Blue Devils received 29 of 31 first-place votes in the poll. No. 2 Michigan State received the other two first-place votes. Kansas State is ranked No. 3, while Pittsburgh and Ohio State round out the top five.
The Associated Press contributed to this report.