PITCH ME
For the third time in baseball postseason history, two former Cy Young winners started against each other for the second time in a single postseason series (see also: Maddux, Greg vs Hershiser, Orel in 1995, and Clemens, Roger vs Martinez, Pedro in 2003). But this second time was not the same as the first time, since Roy Halladay pitched through a gr-gr-groin injury to outduel Tim Lincecum and keep Phillies fightin' for another day in the NLCS. And they'll turn to their other Roy (Oswalt) back in Philly tomorrow afternoon (3:57 ET) in Game 6 and hope he can get them to a Game 7. Now imagine if they never bailed on Cliff Lee. Lee's lined up for a Game 7 of his own, over in the ALCS with the Rangers, but only if the Yankees can rally behind Phil Hughes in Game 6 tonight in Texas (8:07 ET). But he's the same Hughes who in Game 2 became the first starter in postseason history to cough up 7 earned runs and 10 hits in 4 innings or less.
NLCS Game 5 Recap | ALCS Game 6 Preview
More from the NLCS, including how rare it was what the Phillies did, after the jump.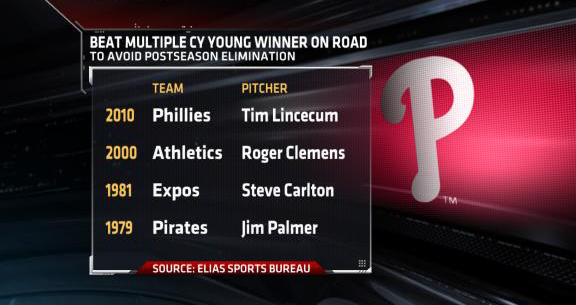 The Phillies became just the fourth team in postseason history to avoid elimination by beating a multiple Cy Young winner on the road. Ten years ago, the A's beat Roger Clemens. 19 years before that, the Expos beat Steve Carlton just two years after the Pirates beat Jim Palmer.