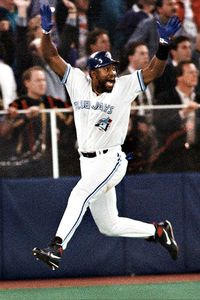 AP Photo/Mark Duncan
You won't find this poster in Mitch Williams' house.
October 23, 1993: The Blue Jays and Phillies take the field at the SkyDome in Toronto in front of 52,195 fans for Game 6 of the 1993 World Series. Up 3-2 in the series, the Jays send Dave Stewart to the mound against Terry Mulholland, a rematch of Game 2.
Toronto jumps all over Mulholland, scoring five runs over five innings and leads 5-1 heading into the top of the seventh. The Jays were all but ready to pop the champagne and celebrate their second straight World Series when Lenny Dykstra blasts a three-run home run off Stewart, cutting the lead to 5-4. The Phils would tack on two more runs in the seventh to take a 6-5 lead. Up a run, the Phils send closer Mitch Williams to the mound to preserve their lead in the bottom of the ninth.
Williams walked Rickey Henderson, got Devon White to pop out and gave up a single to Paul Molitor before Joe Carter stepped to the plate. Down 6-5, with runners on first and second, Carter crushed a 2-2 slider over the left field fence to give the Blue Jays an 8-6 victory and their second consecutive World Series title. Carter became just the second MLB player (Bill Mazeroski) to win a World Series on a home run.