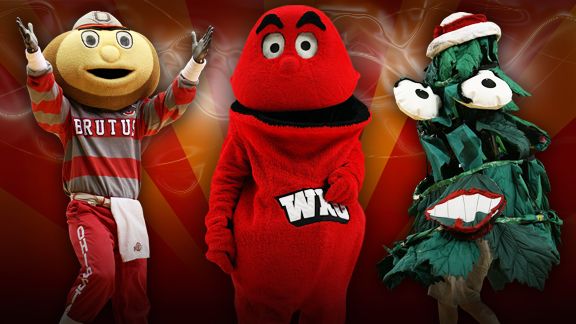 ESPN.com Illustration
Brutus, Big Red and The Tree would make a fine Seuessian Mascot Three.
Fans of rhyming children's books and physical activities rejoice! A missing manuscript from Dr. Seuss has surfaced recently, one that "The Cat in the Hat" author began way back in 1983 but abandoned somewhere along the way. Perhaps he saw a vision of how Hollywood studios would ruin his books with live-action movies and decided to quit while he was ahead. The rediscovered book is called "All Sorts of Sports," an appeal for young readers to get up and exercise, stealing the Play 60 campaign's thunder by almost three decades. Here's an actual excerpt from the draft:
"There are so many sports games to play. We could swim. I could play baseball...golf..or catch. Or I could play a tennis match. There are so many sports, let's see... I could bowl, jump hurdles, or water ski. I could blumf."
By the way, we don't recommend blumfing on a full stomach. You could really throw your back out.
Oddly enough, the good Dr. was also farsighted enough to share his frighteningly accurate visions of the future through his gift of rhymes, much like rapper Tupac Shakur. We managed to find these discarded notes among the papers*:
From "Green Eggs and San Fran":
I would not pitch to Michael Young,
I would not pitch to Mitch Moreland,
I would not start Tim against Cliff Lee,
I would not start him, Bruce Bochy
From "Whorton Sees An NCAA AP Poll":
On the 9th of October 'Bama were tops
Until The 'Tide met South Carolina's Gamecocks
Buckeyes and Sooners soon fell from the peak
Can a school hold No. 1 for more than a week?
From "The 'Pack on Attack":
I lined up with Aaron.
The snap came, on two.
And I said, "How I wish
I would catch a pass that he threw.
One went to Driver.
Another went to Lee.
Too many receivers
And now it's down three.
Also among the papers, but too obscured to make out: "Pau on Yao" and "One Fish, Two Fish, Red Fish, Chad Henne."
*We wish