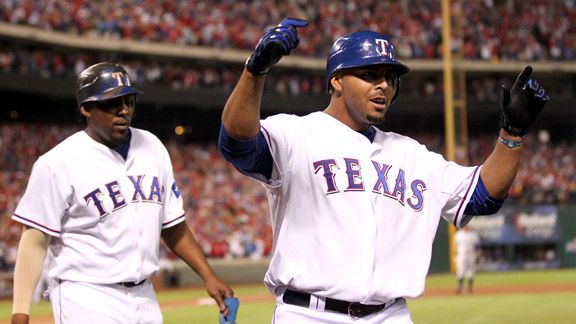 Matthew Emmons/US Presswire
Vlad Guerrero, Nelson Cruz Catapult Rangers Into First World Series
The Texas Rangers are champions of the American League. Texas defeated New York 6-1 in Game 6 of the ALCS Friday to earn its first-ever trip to the World Series. Nelson Cruz belted a two-run HR, capping a Rangers four-run fifth inning. Colby Lewis pitched eight innings and allowed 3 hits, 1 run with 7 Ks for the win.
NFL Still Investigating Brett Favre
Case not closed. The NFL is continuing its investigation into allegations that Minnesota Vikings quarterback Brett Favre sent lewd photos and inappropriate text messages to a New York Jets game hostess two years ago. The league now has a possible door open to a conversation between them and Jenn Sterger.
Magic-Heat Game in Tampa Canceled
Playing it safe. The Orlando Magic and Miami Heat couldn't play their preseason finale on Friday because of slippery court conditions. Arena officials said an oil-based cleaning solution was mistakenly applied to the court inside St. Pete Times Forum. Meanwhile, Heat forward Mike Miller underwent surgery Friday to repair a torn ligament and fracture on his right thumb. Miller is expected to be sidelined until January.
Colts Place Dallas Clark on IR for Wrist
A hand/wrist injury has cost Colts tight end Dallas Clark his entire 2010 season. The team announced Friday that it placed Clark on injured reserve. He will undergo season-ending surgery to repair the injury suffered during Sunday night's win against the Redskins.
David Stern: Contraction Possible
The NBA is losing money. Projected losses this season could be in the $350 million range. This according to the league, which revealed the news this week to the union while in discussions for a new collective bargaining agreement. Desperate times call for desperate measures. The NBA is looking to slash player salaries by a third - which works out to roughly $750 to $800 million.
Harrison Returns to Practice, Files Appeal
Time to appeal. James Harrison, who returned to the Steelers on Thursday after a one-day absence, has filed an appeal of his $75,000 fine for what was ruled an illegal hit against Cleveland wide receiver Mohamed Massaquoi last Sunday.
Wayne Rooney to Stay With Man United
Wayne Rooney reversed course and agreed to a five-year contract with Manchester United on Friday, keeping him with the Premier League club until June 2015. Rooney said this week that he did not intend to extend his deal beyond 2012 because he was unhappy that United hadn't improved its roster.
Canucks C Rick Rypien Banned 6 Games
Vancouver enforcer Rick Rypien has been suspended six games for grabbing a fan during the team's loss to Minnesota earlier this week. While headed to locker room Tuesday night after being assessed a double minor for roughing and 10-minute misconduct, Rypien reached up in the stands and grabbed James Engquist, a fan who was applauding.
Bruce Pearl Told Recruits of Violation
Tennessee coach Bruce Pearl told recruits and their families at his home that their visit equated to an NCAA violation. This according to the termination of employment agreement between Pearl and the university. In the letter dated September 9, obtained initially by WBIR-Channel 10 in Knoxville, athletic director Mike Hamilton wrote that on Sept. 28, 2008, Pearl "knowingly violated NCAA rules."
Josh Cribbs Back at Browns Practice
A helmet-to-helmet concussion won't keep Josh Cribbs off the field. Cribbs returned to practice on Friday, five days after suffering the injury, when he was hit by Steelers LB James Harrison. Browns coach Eric Mangini said Cribbs should play in New Orleans on Sunday.
Note: The Elias Sports Bureau, ESPN Stats and Information group and The Associated Press contributed to this report.