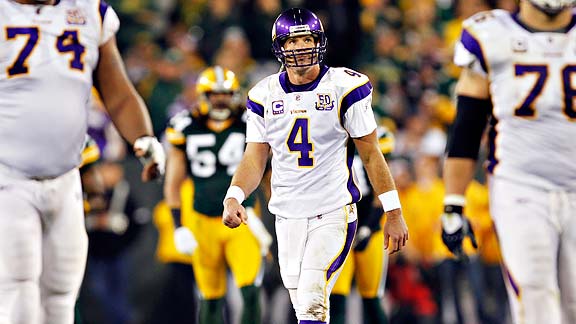 AP Photo/Mike Roemer
Packers Hold Off Vikings as Brett Favre Throws 3 INTs in 2nd Half
Brett Favre's return to Lambeau Field ended in a 28-24 defeat to his former team. Aaron Rodgers completed 21 of 34 passes for 295 yards with 2 TDs and 2 INTs in the win. Brett Favre was 16 of 29 for 212 yards with 1 TD and 3 INTs in the loss.
Auburn Takes Over Top Spot in BCS Rankings
Week 2 of the BCS rankings revealed the Auburn Tigers as the top-ranked team in the nation. Oregon remained at No. 2 for the second straight week, while Boise State, TCU and Michigan State rounded out the Top 5. The Missouri Tigers vaulted to No. 6, followed by Alabama, Utah, Oklahoma and Wisconsin.
DeAngelo Hall Ties Record With 4 INTs as Redskins Close Out Bears
DeAngelo Hall picked off Bears QB Jay Cutler four times, leading to a Redskins 17-14 win on Sunday. Hall tied the league mark with his 4 INTs, running one back 92 yards for a score. Washington also sacked Cutler four times during the win.
Report: Favre Admits Voicemails, Denies Photos
Brett Favre admitted to the NFL last week that he did leave voicemails for Jenn Sterger, but denied sending the former sideline hostess any lewd photographs when he was a member of the New York Jets, Fox Sports reported on Sunday. Phil Reese, Jenn Sterger's PR representative, told ESPN's Kelly Naqi that Sterger's group has hired a team of former FBI investigators to assist them.
Hamlin Wins 3rd Straight Cup Race At Martinsville
Denny Hamlin passed Kevin Harvick for the lead with 29 laps to go Sunday and won his third consecutive NASCAR Sprint Cup race at Martinsville Speedway. Hamlin became the first driver since Jimmie Johnson to sweep both races on the smallest track in NASCAR's premier series, and now trails Johnson in the points race by six.
Andy Reid Names Michael Vick Starter
There's another QB change in Philly. Eagles coach Andy Reid named Michael Vick the team's starter for their November 7th game against Indianapolis, which follows the Eagles bye week. The announcement came after Philadelphia lost to the Titans 37-19.
Pitt's Dixon Assists In Crash Rescue On Interstate
Pittsburgh Panthers coach Jamie Dixon is a hero on and off the basketball court. Dixon pulled over while driving on I-279 in Pittsburgh to help trapped passengers in a car that had turned over against a guard rail. "[Dixon] assisted in removing at least one of the two occupants," Pennsylvania state trooper Erik Fisher told ESPN.com on Sunday morning.
Big Ben Fumbles, But Lack of Replay Evidence Saves Steelers
Ben Roethlisberger and the Pittsburgh Steelers defeated the Dolphins on Sunday, controversially. Big Ben's late fumble was awarded back to the Steelers, who won the game on a Jeff Reed field goal, 23-22. Roethlisberger threw for 302 yards and 2 TDs in the win.
Agent: No Manning-Colts Talks Until After Season
Peyton Manning will not have a new contract before the season ends. Manning's agent, Tom Condon, confirmed that he informed Indianapolis Colts president Bill Polian in a face-to-face meeting Wednesday that Manning will not discuss or negotiate a new contract until after the 2010 season.
Jerramy Stevens Arrested, Doesn't Play
The Bucs beat the Rams 18-17, without Jerramy Stevens. The Bucs TE did not play Sunday after he was arrested Saturday night for possession of marijuana with intent to sell, possession of marijuana, and possession of drug paraphernalia. The first two charges are felonies, while the last one is a misdemeanor.
Note: The Elias Sports Bureau, ESPN Stats and Information group and The Associated Press contributed to this report.