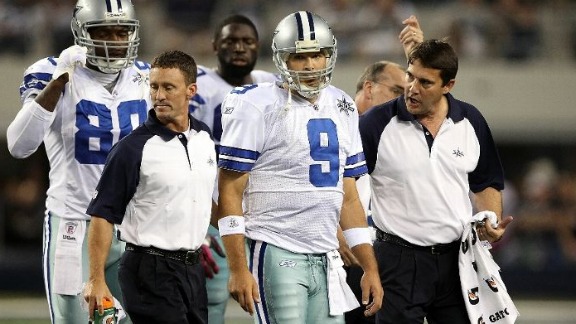 Photo by Ronald Martinez/Getty Images
Giants Put Away Cowboys After Tony Romo Breaks Collarbone
The Cowboys lost their starting quarterback to injury, and then lost the game 41-35 to the Giants on Monday night. Jon Kitna replaced injured QB Tony Romo (collarbone) in the second quarter, and finished 16 of 33 for 187 yards with 2 TDs in defeat. Meanwhile, after throwing two early INTs, Giants QB Eli Manning finished 25 of 35 for 306 yards with 4 TDs and 3 INTs in the win. Cowboys rookie Dez Bryant scored 3 TDs in the loss.
Tony Romo Injures Left Shoulder
Dallas Cowboys QB Tony Romo was forced out of Monday night's game with an injured left shoulder. Romo suffered a broken left collarbone during a hit by Giants LB Michael Boley in the second quarter. Recovery time for the injury is generally 8 to 10 weeks.
Brett Favre Has 2 Fractures in Left Ankle
Brett Favre's left ankle is hurting, and now we know why. The Vikings QB was diagnosed Monday with two separate fractures in his left ankle, and is uncertain to play in Sunday's game against the New England Patriots. An MRI showed an avulsion fracture -- which takes place when a tendon or ligament pulls off a piece of the bone -- and a stress fracture, according to coach Brad Childress. Favre, 41, has played in an NFL record 291 consecutive games.
Blue Jays Hire John Farrell as Manager
The Toronto Blue Jays no longer have a manager vacancy. The team hired former Red Sox pitching coach John Farrell as its new skipper. Farrell, who pitched in the majors for parts of eight seasons, has never managed at any level. He replaces Cito Gaston, who retired following last season.
Financial Penalties for Players Possible
Cheaters will pay, maybe. Student-athletes who lose their college eligibility for receiving improper benefits from agents could face financial penalties upon entering the NFL Draft under a proposal being considered by a panel of college and pro football officials seeking solutions to the problem.
Rams RB Steven Jackson Has Finger Surgery
St. Louis Rams RB Steven Jackson underwent finger surgery on Monday and his status for Sunday's game against the Panthers is uncertain. Rams coach Steve Spagnuolo says Jackson broke his left ring finger in Sunday's 18-17 loss to the Bucs.
The Yankees fired pitching coach Dave Eiland on Monday. Yankees general manager Brian Cashman said the decision had nothing to do with how poorly the Yankees pitched in the American League Championship Series loss to the Rangers. Cashman described the decision as a "private" one.
NFL: 'Good Start' After Crackdown
The NFL gave kudos to Steelers LB James Harrison and Patriots S Brandon Meriweather, one week after each was fined for illegal hits. Both players were praised by the league for their clean play in Sunday's victories. Ray Anderson, the league's executive vice president of football operations, told The Associated Press on Monday that Meriweather and Harrison "heeded our emphasis" on eliminating fouls and deserve to be lauded, as do others. No flags were thrown for illegal hits to defenseless players in the 13 games played on Sunday.
Jamie Dixon Talks About Accident
Two days after Pittsburgh coach Jamie Dixon stopped to help the victims of a car crash that unfolded before his eyes on Saturday night, he shared his emotions of the event. "It was one of those things where you just react. I think a lot of people would have done the same thing," Dixon said Monday, speaking about the crash for the first time. "When I saw the car flip I didn't think anyone would survive."
The Tampa Bay Buccaneers released tight end Jerramy Stevens on Monday after his weekend arrest for marijuana possession. The 30-year-old Stevens was taken to jail and charged with possession of marijuana with intent to sell and possession of drug paraphernalia. The team promoted TE Ryan Purvis from their practice squad after releasing Stevens.
Note: The Elias Sports Bureau, ESPN Stats and Information group and The Associated Press contributed to this report.