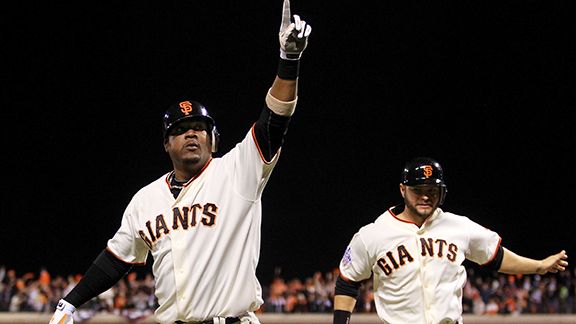 Ezra Shaw/Getty Images
A pitching duel it wasn't. Freddy Sanchez and the San Francisco Giants chased Cliff Lee early, roughing up the postseason ace for an 11-7 win over the Texas Rangers in the World Series opener Wednesday night. Tim Lincecum won the marquee matchup between Cy Young Award winners, though neither pitcher was sharp. Lee entered 7-0 with a 1.26 ERA in eight postseason starts but allowed seven runs - six earned - in 4 2/3 innings.
Notre Dame Student Taping Football Practice Dies
A Notre Dame student died Wednesday after the tower from which he was filming football practice fell over. Declan Sullivan, a 20-year-old junior from Long Grove, Ill., was transported from the LaBar practice complex to a South Bend hospital, where he died. The cause of the accident wasn't known, but winds in the area were gusting to 51 mph at the time, according to the National Weather Service. The video lift, which can be lowered or raised depending on needs, stretched across a nearby street.
Favre Won't Rule Self Out vs. Patriots
Brett Favre is not ruling himself out of Sunday's game at New England despite two fractures in his left ankle. "I'm willing to give it a try," Favre said of attempting to play. The 41-year-old Favre wore a large, gray walking boot on his left leg to the podium for his regular news conference on Wednesday, and he said he doesn't anticipate participating in a full practice at all this week.
LeBron's Heat Debut Sets Cable NBA TV Mark
The Heat's new Big Three earned big television ratings. The debut of LeBron James, Dwyane Wade and Chris Bosh in Tuesday's opener drew the most viewers for an NBA regular-season game in cable history. TNT said Wednesday that Miami's 88-80 loss to the Boston Celtics had a 4.6 rating and was watched by 7.4 million people. The rating is second only to the 4.9 for the Bulls-Lakers game on Feb. 2, 1996, when Michael Jordan and Magic Johnson met for the first time after both came out of retirement.
Cavs Owner Doesn't Regret Post 'Decision' Letter
Cavaliers owner Dan Gilbert isn't backing off comments he made in a letter to fans after LeBron James decided to leave Cleveland for the Miami Heat last July. Gilbert called James "disloyal" and labeled his decision a "cowardly betrayal" hours after he appeared on national television to announce he would join the Heat.
49ers To Start Troy Smith In London
With quarterback Alex Smith ruled out because of a separated shoulder, San Francisco 49ers head coach Mike Singletary is gambling on Troy Smith being able to turn his struggling team around. Singletary said Wednesday the former Heisman Trophy winner will get his first NFL start in three years after Alex Smith was ruled out for 2 to 3 weeks with a separated left shoulder. The Niners play the Denver Broncos at London's Wembley Stadium on Sunday.
Yankees' Sabathia To Have Knee Surgery Friday
New York Yankees left-hander CC Sabathia will undergo arthroscopic surgery at New York Presbyterian Hospital on Friday to correct a small meniscus tear in his right knee, the team announced on Wednesday. The procedure will be performed by team physician Dr. Chris Ahmad. Sabathia will begin therapy immediately after the surgery and is scheduled to begin his regular routine in preparation for spring training 3-6 weeks following the surgery.
Source: Mets To Announce Alderson As GM
Sandy Alderson will be the next general manager of the New York Mets, a source confirmed to ESPNNewYork.com. An announcement could come Friday, on the off day between Games 2 and 3 of the World Series. Alderson, 62, has been considered the favorite to land the position since the outset.
The Associated Press contributed to this report.