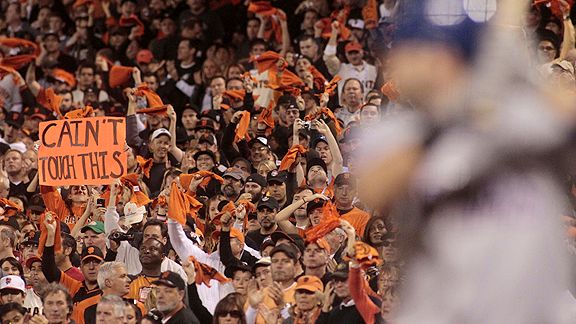 Cary Edmondson/US Presswire
Cain Stymies Rangers As Giants Stake 2-0 Series Lead
Matt Cain pitched shutout ball into the eighth inning, Edgar Renteria hit a go-ahead home run and the San Francisco Giants broke away from the Texas Rangers 9-0 for a 2-0 lead in the World Series. A day after the Giants romped 11-7, Cain ruled the mound. He kept his 0.00 ERA through three postseason starts.
Report: Jose Guillen Part Of HGH Probe
The New York Times is reporting on its website that San Francisco Giants outfielder Jose Guillen, who was left off the team's postseason roster, is linked to a federal investigation into shipments of human growth hormone. The story, posted Thursday night and citing several unidentified lawyers, says federal authorities told Major League Baseball they were looking into shipments of HGH sent to Guillen's wife in the Bay Area.
N.C. State 28, No. 16 Florida St. 24
Russell Wilson threw a fourth-down touchdown pass to George Bryan with 2:40 left to help North Carolina State rally from a big halftime deficit and beat No. 16 Florida State 28-24.
Irish AD: Strong Gust Preceded Fatal Collapse
A strong gust of wind swept across Notre Dame's practice football field before a tower toppled, killing a student who had been videotaping the team from the tower, the university's athletic director said Thursday. Declan Sullivan, a 20-year-old junior from Long Grove, Ill., died Wednesday at a South Bend hospital after the hydraulic scissor lift he was on fell over at the LaBar practice complex. Athletic Director Jack Swarbrick promised there would be a full investigation, but did not say who was responsible for allowing the student to use the lift.
Giants' Kiwanuka To IR, Out For Rest Of Season
The New York Giants placed defensive end Mathias Kiwanuka on injured reserve with a herniated disk in his neck on Thursday. For the second time in four seasons, Kiwanuka's year is finished because of injury. But this time, his Giants career could also be over since he is in the final year of his contract. Kiwanuka said he expects to be ready by training camp. General manager Jerry Reese said in a statement he would like to see Kiwanuka return to the Giants next season.
Sources: Girardi, Yanks Agree On New Contract
The New York Yankees and manager Joe Girardi have reached agreement on a three-year, $9 million contract with incentives that could add another $500,000 for winning the World Series, according to two sources. According to both sources, agreement was reached "right away" between the club and Girardi, with many of the details agreed to at the first meeting between Girardi and general manager Brian Cashman on Tuesday afternoon.
Melo Hints It's 'Time For A Change,' Not Extension
Carmelo Anthony acknowledged after Denver's season-opening victory Wednesday that he still doesn't intend to sign a contract extension and that it might be time for him and the Nuggets to go their separate ways. Speaking to Yahoo! Sports, Anthony said he's looking at his future -- and the Nuggets don't appear to be part of it.
Brett Favre No Longer In Walking Boot
The signs of progress are small but noticeable for Brett Favre and his injured left ankle. Favre missed his second straight day of practice for the Minnesota Vikings on Thursday, but walked around the facility without the oversized boot which had been protecting an injury that is putting his league-record 291-straight starts streak in jeopardy.
Jones: Romo Might Not Play Again This Season
Dallas Cowboys owner/general manager Jerry Jones acknowledged injured quarterback Tony Romo might not play again this season. It depends on Romo's recovery time and the Cowboys' performance while backup Jon Kitna fills in as the starter. Romo is expected to miss six to eight weeks with a broken left collarbone.
The Associated Press contributed to this report.