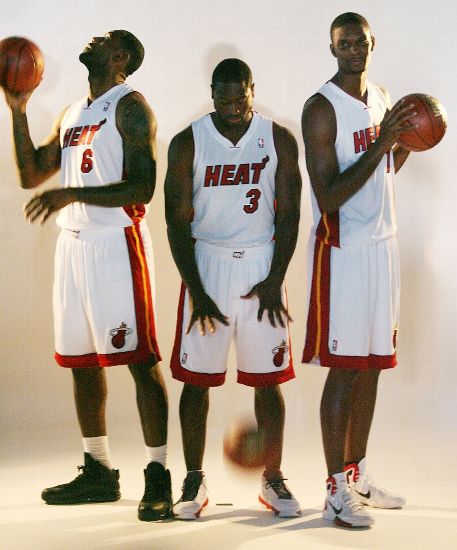 Getty Images
Orlando Magic (1-0) at Miami Heat (1-1)
8:00 PM ET -- AmericanAirlines Arena, Miami, FL -- ESPN/ESPN3
Tonight is the home debut for the Miami Heat, who host Dwight Howard and the Orlando Magic. This game has been anticipated by Heat fans since July 9, when Miami first introduced LeBron James, Dwyane Wade and Chris Bosh as its newest free-agent signees. The new-look Heat will be tested down low against Dwight Howard, who has recorded a double-double in eight straight games against the Heat in Miami. Meanwhile, Dwyane Wade won't likely have trouble scoring tonight. D-Wade averages 29.9 points per game against the Magic in his NBA career, his highest average against any team in the NBA.
Game Preview: ORL vs MIA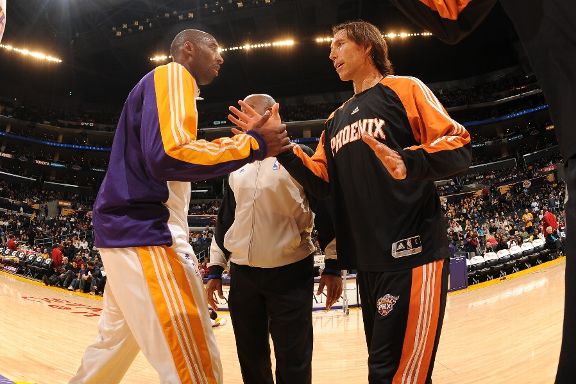 Getty Images
Los Angeles Lakers (1-0) at Phoenix Suns (1-1)
10:30 PM ET -- US Airways Center, Phoenix, AZ -- ESPN
The Lakers are playing their first road game of the season tonight. Los Angeles has won each of its last five road openers, the longest-current streak in the league. The Lakers were 3-1 against the Suns last regular season, and then defeated them 4-2 in the Western Conference Finals before advancing to the NBA finals. Kobe Bryant is averaging 25.8 points in his career against the Suns. Steve Nash has led (or tied for the lead) the Suns in scoring in each of the team's first two games this season. Grant Hill, who celebrated his 38th birthday earlier this month, is the second oldest player to start a game this season behind Shaquille O'Neal (38). Steve Nash (36) is the fourth oldest to start a game this season behind O'Neal, Hill and Jason Kidd (37).
Game Preview: LAL vs PHO


8:00 PM ET -- Rentschler Field, East Hartford, Connecticut -- ESPN2/ESPN3
-WVU is 5-0 when scoring 20+ points this season, 0-2 when scoring fewer than 20
-WVU has won all six meetings between these teams. First meeting was in 2004
-Rushing battle: Jordan Todman is 5th among FBS rushers (140.2 YPG); WVU is 11th in rush defense (97.4 YPG)
Note: The Elias Sports Bureau and ESPN Stats and Information group contributed to this report.