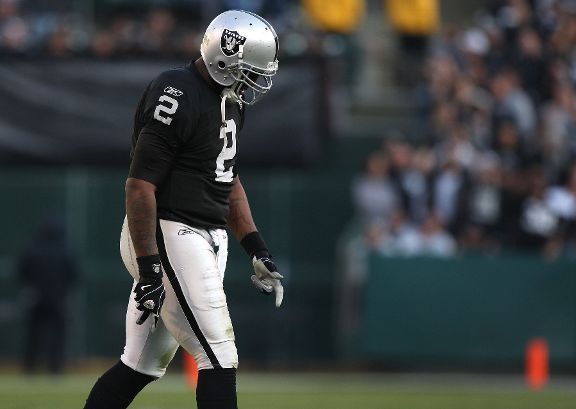 Getty Images
A Mobile County Grand Jury has decided there is not enough evidence to indict former-NFL quarterback JaMarcus Russell. Russell was arrested on July 5th for possession of codeine syrup without a valid prescription. Investigators say Russell was drinking an illegal mixture called "purple drank," which includes the narcotic mixed with either Sprite, Gatorade or another juice. Russell pleaded not guilty to the charge.
Ladies and gentlemen, Sandy Alderson. The New York Mets introduced their new general manager today. The 62-year-old Alderson, who signed a four-year contract with a club option for 2015 to oversee the baseball operations department, is the team's 12th GM. He takes over for Omar Minaya, who along with manager Jerry Manuel was fired at the end of the team's second straight losing season.
Vince Young Probable Against Chargers
The San Diego Chargers likely will have to worry about Titans QB Vince Young this Sunday. Young went through a full week of practice after missing last Sunday's game against the Philadelphia Eagles. Young suffered a sprained left knee and ankle during the team's victory against Jacksonville on October 18. "I think everything came together for us this week," Titans coach Jeff Fisher said. "I think there is a good chance Vince will start."