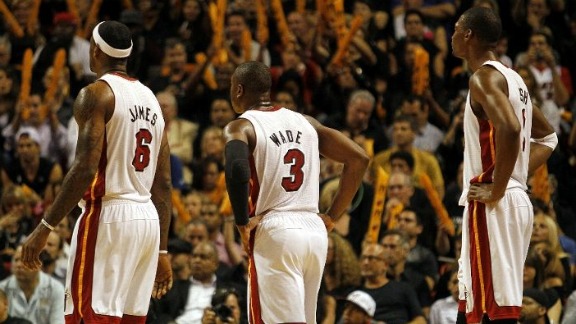 Photo by Marc Serota/Getty Images
Dwyane Wade, LeBron James Turn Anticipated Matchup With Magic Into Rout
The new-look Miami Heat are perfect at home, defeating the Orlando Magic 96-70 Friday night. Dwyane Wade led the Heat with 26 points, while LeBron James added 15 points and 7 assists. Chris Bosh also contributed with 11 points and 10 rebounds during the win. Orlando was led by Dwight Howard's 19 points in defeat.
Brett Favre Questionable vs. Pats
Will Brett Favre play, or won't he? That's the question Vikings fans want answered. Favre, who has two fractures in his left ankle, returned to the practice field Friday for the first time all week. The 41-year-old QB is listed as questionable for what would be his NFL record 292 consecutive start Sunday in New England.
Rajon Rondo's 24 Assists Highlight Triple-Double as Celtics Hold Off Knicks
Rajon Rondo was in a giving mood Friday night. Rondo's triple-double of 10 points and 10 rebounds was capped off by a career-high 24 assists, to help the Celtics top the Knicks 105-101. Rondo's 24 assists fell short of the franchise record of 28 set by Hall of Famer Bob Cousy in 1959.
A Mobile County Grand Jury decided there is not enough evidence to indict former-NFL quarterback JaMarcus Russell. Russell was arrested on July 5th for possession of codeine syrup without a valid prescription. Investigators say Russell was drinking an illegal mixture called "purple drank," which includes the narcotic mixed with either Sprite, Gatorade or another juice. Russell pleaded not guilty to the charge.
Report: Jose Guillen Part of HGH Probe
The New York Times, citing unidentified lawyers, reported that Giants OF Jose Guillen is linked to a federal investigation into shipments of performance enhancing drugs. The report says the feds told Major League Baseball about the investigation right before Guillen was left off the team's postseason roster.
Ladies and gentlemen, Sandy Alderson. The New York Mets introduced their new general manager on Friday. The 62-year-old Alderson is the team's 12th general manager. Alderson takes over for Omar Minaya, who along with manager Jerry Manuel was fired at the end of the team's second straight losing season.
Texans Searched Locker Room for PEDs
Taking extra precaution. Houston Texans owner Bob McNair ordered the team's staff to search the locker room, about a month ago, to ensure no players are using banned substances, according to the USA Today. Two Texans players -- left tackle Duane Brown and linebacker Brian Cushing -- were suspended earlier this year for different violations of the league's policy on banned substances.
Vince Young Probable Against Chargers
The San Diego Chargers likely will have to worry about Titans QB Vince Young this Sunday. Young went through a full week of practice after missing last Sunday's game against the Philadelphia Eagles. Young suffered a sprained left knee and ankle during the team's victory against Jacksonville on October 18. "I think everything came together for us this week," Titans coach Jeff Fisher said. "I think there is a good chance Vince will start."
David Ortiz Cites Contract Distractions
Big Papi shared his thoughts. The Boston Red Sox need to decide whether or not to pick up David Ortiz's one-year, $12.5 million option for 2011. Ortiz reiterated that he'd prefer a multiyear contract extension, telling WEEI.com he would not be comfortable with a one-year deal because of the "roller coaster" season that just ended.
Pierre Thomas, Reggie Bush Out Again
The New Orleans Saints are hurting. RBs Reggie Bush and Pierre Thomas have been ruled out for Sunday night's game against the Pittsburgh Steelers. Bush said Friday he planned to return Sunday against Pittsburgh when the week began, but after testing the recovery of his lower right leg from a fractured bone, he and trainers agreed he was not quite ready.
Note: The Elias Sports Bureau, ESPN Stats and Information group and The Associated Press contributed to this report.