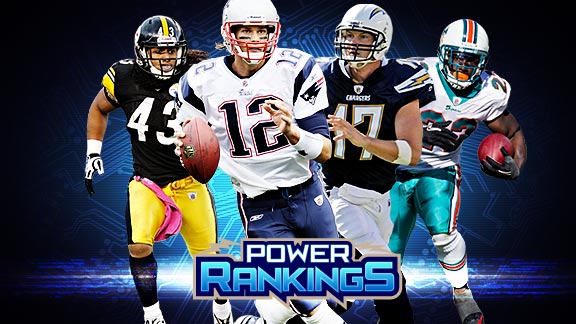 The New England Patriots are atop ESPN.com's NFL Power Rankings for the first time since the 2008 Week 1 edition. After the Pats, our weekly poll of experts awarded spots Nos. 2-5 to the Baltimore Ravens, Pittsburgh Steelers, New York Jets and Indianapolis Colts, respectively. At No. 6, the Atlanta Falcons represent the best team in the NFC in the eyes of our experts. The Falcons will have their claim to NFC South supremacy tested by the upstart Tampa Bay Buccaneers, who rank No. 14.
RK (LW) TEAM (REC) COMMENT
1 (3) Patriots (6-1) A favorable second-half schedule could set up the Patriots for a 12- or 13-win season. (Clayton)
2 (4) Ravens (5-2) Without much fanfare, the Ravens have quietly won four of their past five. (Walker)
3 (1) Steelers (5-2) The Steelers showed they have several things to improve on in a loss to the Saints. (Walker)
4 (2) Jets 5-2 The Jets' coaches outwitted themselves against the Packers by adding too much during the bye week. (Clayton)
5 (6) Colts 5-2 Remarkably, the injury-depleted Colts are back atop the AFC South. (Kuharsky)
After the jump, number 6 through the Bills.
6 (5) Falcons 5-2 Each of the Falcons' next five opponents won its most recent game. That includes the upstart Bucs, who visit Atlanta in Week 9. (Sando)
7 (9) Giants 5-2 Eli Manning's next quest is conquering the crowd noise in Qwest Field on Sunday. (Clayton)
8 (10) Packers 5-3 The Packers haven't played defense like that since ... 2009. (Walker)
9 (7) Titans 5-3 Their third-down defense was a disaster in San Diego and needs to be fixed during the bye week. (Kuharsky)
10 (14) Saints 5-3 The Saints needed a statement victory and they got one by shutting down the Steelers in a 20-10 triumph. (Sando)
11 (12) Chiefs 5-2 Remember the last time Chiefs-Raiders meant something big? Me neither. (Kuharsky)
12 (11) Eagles 4-3 Michael Vick takes over as the starter and now we'll see if he can make a playoff run. (Clayton)
13 (8) Texans 4-3 That's not a playoff-caliber defense on the field for the Texans right now. (Kuharsky)
14 (18) Buccaneers 5-2 Hey, give Raheem Morris some credit for believing in his team. Josh Freeman can make a coach look smart. (Sando)
15 (16) Dolphins 4-3 In the game-winning drive against the Bengals, QB Chad Henne had four long-overdue big plays. (Clayton)
16 (23) Raiders 4-4 Remember the last time Raiders-Chiefs meant something big? Me neither. (Kuharsky)
17 (15) Bears 4-3 For a team with a winning record, Chicago had plenty of issues to address at the bye. (Walker)
18 (13) Redskins 4-4 Did Mike Shanahan trade for Donovan McNabb for a 58-minute game or 60? (Clayton)
19 (25) Jaguars 4-4 Jaguars are feeling great after a complete effort in Dallas got them to .500 for their bye. (Kuharsky)
20 (17) Seahawks 4-3 The healthier, rested Giants will test the Seahawks' ability to win at Qwest Field under tough circumstances. (Sando)
21 (20) Rams 4-4 If the Seahawks and Cards lose in Week 9, the Rams could claim at least a share of first place with a Week 10 victory at the 49ers. (Sando)
22 (24) Chargers (3-5) Can the Chargers sustain what they found against the Titans against the Texans in Houston? (Kuharsky)
23 (19) Vikings ( 2-5) It's time for Brad Childress to polish up his resume. (Walker)
24 (21) Cardinals (3-4) The Cardinals' QBs are on pace for 11 TD passes and 27 INTs over the course of a 16-game season. (Sando)
25 (22) Bengals (2-5) If it wasn't for the Cowboys and Vikings, the Bengals would be the NFL's biggest disappointment. (Walker)
26 (28) Browns (2-5) Coming off the bye, can Eric Mangini beat his former mentor, Bill Belichick, and the Patriots? (Walker)
27 (30) Lions (2-5) The Lions could be a dangerous spoiler. (Walker)
28 (27) Broncos (2-6) The Broncos' point differential of minus-69 is second only to winless Buffalo's minus-80. (Kuharsky)
29 (26) Cowboys (1-6) The Cowboys are a good two-minute team, playing good for two minutes and bad for 58. (Clayton)
30 (31) 49ers (2-6) The 49ers needed their bye week earlier in the season, but they need one now, too, after the London trip. (Sando)
31 (29) Panthers (1-6) The contrast between the Rams' Sam Bradford and the Panthers' QBs had to be tough for the Panthers to stomach. (Sando)
32 (32) Bills (0-7 ) WR Steve Johnson and QB Ryan Fitzpatrick are creating some excitement for the winless Bills. (Clayton)
The 4 voters: Mike Sando, John Clayton, Paul Kuharsky and James Walker