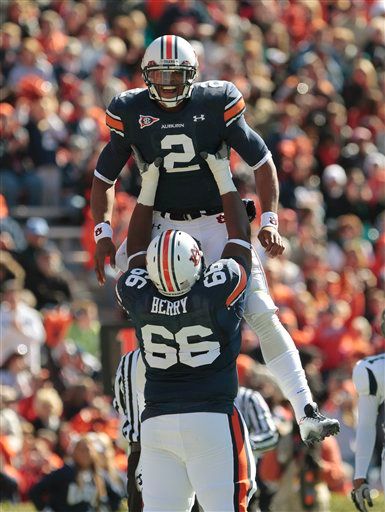 AP Photo/Dave Martin
Cam Newton Greeted Warmly at Home
Heisman hopeful Cam Newton was cheered loudly by fans Saturday, and that was before the Tigers game against Chattanooga even started. While the NCAA is busy reviewing allegations that a man allegedly tried to secure payment from Mississippi State during Newton's recruitment, Cam is leading the third-ranked Tigers on the field; they lead Chattanooga 41-14 at halftime.
Peyton Manning has lost another offensive weapon for the season. The Colts announced Saturday that wide receiver Anthony Gonzalez was placed on injured reserve. Gonzalez injured his left knee in Monday night's victory over the Houston Texans. ESPN.com's John Clayton reported Friday that Gonzalez injured his posterior cruciate ligament.
Hornets PG Chris Paul Wants in on 2012 Olympic Team
Chris Paul didn't mix messages when asked if he'd like to play for Team USA during the 2012 Olympics. "I'm in. I want to be," Paul said after Friday's 96-93 win over the Miami Heat and three of Paul's 2008 Olympic teammates, LeBron James, Dwyane Wade and Chris Bosh. "I want to play. If they'll have me, I want to play."
The Associated Press contributed to this report.