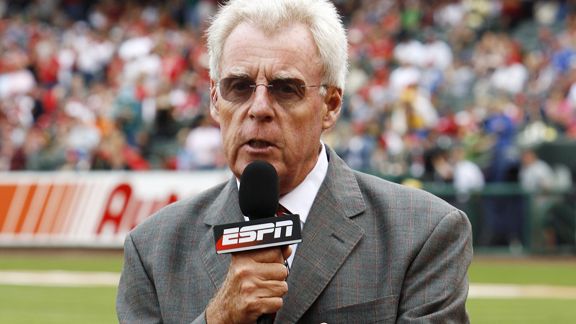 Joe Murphy/Getty Images
Peter Gammons tried to call himself P-Gam (with a hard G) early in his career, but somehow the nickname never took.
ESPN baseball analyst Peter Gammons is leaving ESPN. Peter, we salute you and wish you luck in your new endeavors. We will miss your unparalleled reporting, the way your voice goes up and down in a sing-songy manner when you tell us about free agent signings, and the way you somehow manage to pull off rimless sunglasses.
Our Favorite Peter Anecdote: The story goes Peter and Bob Ryan started at the Boston Globe as summer interns on the same day, June 10, 1968. Their first assignment? A compilation of what sports columnists had written on the subject of baseball's decision to play over the weekend Bobby Kennedy was assassinated. Bob and Peter shared a byline.
Our Favorite Peter Book: "Beyond the Sixth Game"
Gammons' look at what happened to the Red Sox (and all of baseball) after Carlton Fisk's homerun in Game Six of the 1975 World Series, peppered with anecdotal gems like Dennis Eckersley telling batters he'd give them "cheese for their kitchen" (a fastball up and in).
Our Favorite Peter Interview: "The A-Rod Interview"
We appreciate how he is totally blunt in his questioning of A-Rod but sounds more like a disappointed dad than a judgmental sports reporter.
Our Favorite Peter Song: "She Fell From Heaven"
Peter also dabbles in music. More than dabbles, actually. He plays a Fender Stratocaster and rocks with Theo Epstein and a bunch of other Red Sox players at the benefit concert Hot Stove, Cool Music event every year.