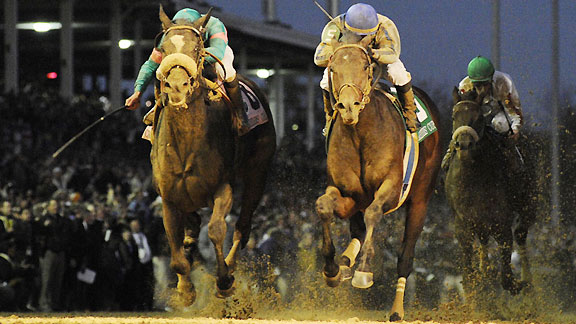 Horsephotos.com
Garrett Gomez rode Blame to victory Saturday for the Breeders' Cup Classic at Churchill Downs. The favorite, Zenyatta and jockey Mike Smith fell behind early and nearly pulled off a remarkable photo finish, but Blame's lead was too much to overcome. Six-year old Zenyatta's overall record is 19-1.
Stanford Tops Arizona in Pac-10 Battle
No. 13 Stanford scored early and never looked back, defeating No. 15 Arizona 42-17 on Saturday. Cardinal QB Andrew Luck completed 23 of 32 passes for 299 yards and 2 TDs, while RB Stepfan Taylor rushed for 84 yards and 4 TDs in the win. Arizona's QB Nick Foles went 28 of 48 for 248 yards, with 1 TD and 1 INT in the loss.
Andy Dalton Throws for 355 yards, 3 TDs as TCU Trounces Utah
Statement made. No. 3 TCU manhandled No. 5 Utah 47-7 on Saturday, looking every bit like a team worthy of busting into the BCS championship game. The Horned Frogs were led by TCU QB Andy Dalton's career-high 355 yards and 3 TDs. The loss snapped Utah's 21-game home winning streak and dashed any hopes it had for a BCS appearance.
Coach Les Miles' Key Fourth Down Call Helps LSU Pull Upset
The Mad Hatter strikes again. LSU coach Les Miles called a reverse on fourth-and-1, which set up Stevan Ridley's go-ahead 1-yard plunge in the fourth quarter, and No. 10 LSU held on for a 24-21 upset of the sixth-ranked Crimson Tide on Saturday. Alabama QB Greg McElroy completed 21 of 34 passes for 223 yards, with 2 TDs and 1 INT in the loss.
Peyton Manning has lost another offensive weapon for the season. The Colts announced Saturday that wide receiver Anthony Gonzalez was placed on injured reserve. Gonzalez injured his left knee in Monday night's victory over the Houston Texans. ESPN.com's John Clayton reported Friday that Gonzalez injured his posterior cruciate ligament.
Joe Paterno Wins No. 400 After Penn St. Rallies From 21-Down
400 wins and counting. Joe Paterno earned his 400th coaching victory Saturday in comeback fashion. Penn State backup QB Matt McGloin threw for four scores, the defense held Northwestern scoreless in the second half and the Nittany Lions rallied from a three-touchdown deficit to defeat the Wildcats 35-21.
Michigan Stops Illinois on Two-Point Conversion for Win
The highest scoring game in the history of Michigan football ended with a Wolverines win. Michigan's defense came up with the game-winning play, stopping Illinois on a potential game tying 2-point conversion during the 67-65 Three-OT win. The win makes the Wolverines bowl-eligible for the first time in coach Rich Rodriguez's three seasons.
Shawne Merriman Gets Rolling with Bills
Filling a gap. The Buffalo Bills introduced Shawne Merriman on Saturday. Merriman, who was waived by the Chargers three weeks after being placed on injured reserve (calf), is getting a second chance in the league to prove his productive years with San Diego were not a fluke.
Costly words. The NBA fined Charlotte Bobcats guard Stephen Jackson $50,000 Saturday for verbally abusing the referees after Friday's loss to Detroit. Jackson was hit with a technical foul by referee Steve Javie late in the third quarter, after complaining he was fouled on a made basket. The fine was for Jackson's actions after the loss.
Brad Keselowski Wins Title for Penske
Brad Keselowski made Roger Penske a proud man on Saturday. Keselowski finished third in Texas, good enough to clinch the Nationwide season title, giving owner Roger Penske his first championship in one of NASCAR's national series.
Note: The Elias Sports Bureau, ESPN Stats and Information group and The Associated Press contributed to this report.