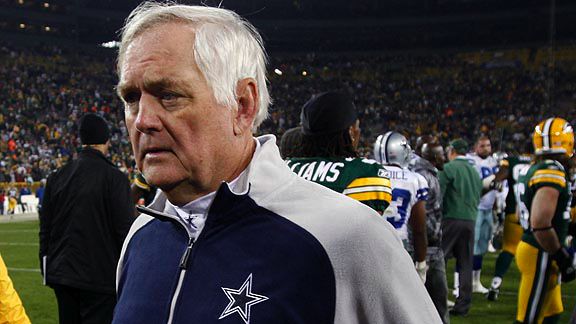 AP Photo
Cowboys' Phillips Apparently Not At Team Facility
As of 9 a.m. CT today, Dallas Cowboys coach Wade Phillips was not seen at Valley Ranch. His leased SUV which is normally parked outside the scouting department's office was not there, but that doesn't mean the coach was fired. Phillips is taking heat following a 45-7 loss to the Green Bay Packers on Sunday night which has put his team's losing streak at five games. Cowboys owner/general manager Jerry Jones normally meets with the coaches on Monday to watch film of the game, but it wasn't determined if that had happened yet. After the loss, Jones said he wants to evaluate the entire organization and expressed frustration with his 1-7 team.
Harvin: Dispute With Childress Was Over MRI
Percy Harvin said his heated dispute with Brad Childress last Friday was over an MRI the Minnesota Vikings receiver didn't want to take but that he and the coach are "fine" now. "We had a little dispute," Harvin said, according to the Star Tribune. "It wasn't what people thought it was about. It was about whether I was going to get an MRI or not. It was a little dispute, but we settled it. Me and Coach are fine." Team sources told ESPN's Ed Werder that the confrontation between Harvin and Childress grew so heated Friday afternoon that coaches and players were forced to separate them to prevent a physical exchange.
Iverson Arrives In Turkey To Continue His Career
Former NBA star Allen Iverson arrived in Istanbul on Monday to begin a stint with Turkish club Besiktas, promising to give fans "something they haven't seen before." Dozens of fans greeted the 11-time All-Star at Ataturk Airport. Sporting a Besiktas jersey and a Philadelphia Phillies hat, Iverson waved at fans from inside his car before being driven to his hotel. Iverson, who agreed to a $4 million, two-year contract with Besiktas, is the Turkish league's biggest signing. He has called his move to the Istanbul club "a chance to get back on track with my basketball career" after no NBA team was willing to offer him a contract this season.
The Associated Press contributed to this report.