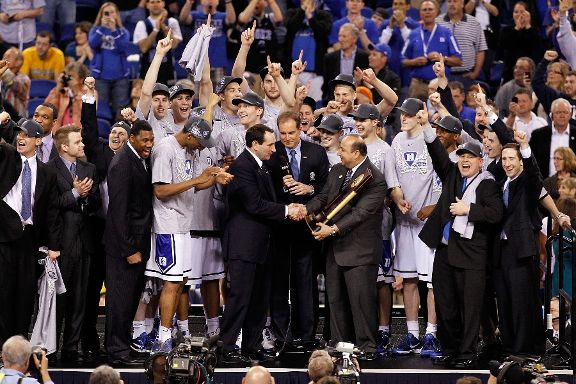 Getty Images
The 2010 NCAA men's basketball regular season tips off tonight. And, while the defending champion Duke Blue Devils don't officially begin until Sunday against Princeton, they remain the top-ranked team in the nation, and deservedly so. Speaking of rankings, the first edition of this season's Power Rankings (total points in parentheses) are out; let the debating begin.
1) Duke (250) It's unanimous, and really, why shouldn't it be? One can argue whether the Blue Devils will repeat, but with its core back and the additions of Kyrie Irving and Seth Curry, this is easily your preseason No. 1.
2) Michigan State (236) And frankly, this is easily your preseason No. 2. The program has gone to back-to-back Final Fours and has nearly its entire team back. All but one ballot had the Spartans second. You might consider tuning in to that Dec. 1 game in Durham.
3) Pittsburgh (214) Only Jermaine Dixon is missing from a team that won 25 games and garnered the 2-seed in the stacked Big East tourney. Led by Ashton Gibbs and Brad Wanamaker, expectations are high for the 16-team's preseason favorite.
4) Kansas State (209) For the first time, Kansas State is the preseason favorite in the Big 12. Can the Wildcats live up to the hype? Denis Clemente is gone, but Jacob Pullen and his beard are back, along with Jamar Samuels and Curtis Kelly.
5) Ohio State (195) No Evan Turner, no problem. It's a testament to the recruiting of Thad Matta and his staff that a team can lose the National Player of the Year and still be respected enough to land in the preseason top 5. It also puts a lot of pressure on Jared Sullinger.
See teams ranked 6-25, after the jump.
6) Kansas (186) It would appear by this ranking that most of our panelists feel Josh Selby will play most of the season. The Morris twins and Tyshawn Taylor are a good base, but the presumed freshman phenom is the key after KU lost some serious star power.
7) Villanova (182) Scottie Reynolds is gone, but are we really worried about the Nova guards? Corey Fisher, Corey Stokes and Maalik Wayns will lead what should be another excellent Jay Wright backcourt. The Cats should be in the thick of the Big East race yet again.
8) Syracuse (180) The Orange lost plenty of talent, but plenty remains from a team that won 30 games last season. Oh, and those freshmen Fab Melo and Dion Waiters can play a little, too. Jim Boeheim likes his team a lot, and who are we to argue?
9) Florida (166) Sure, this seems a little high for a team that hasn't won a tourney game since 2007. But with all five starters back and the addition of beastly freshman Patric Young, it's hard not to anoint the Gators as the favorite in the SEC.
10) North Carolina (152) Here's another ranking that might mystify some. The talent was in place last season and obviously something went horribly wrong. But with a stacked freshmen class led by preseason All-American Harrison Barnes, UNC is in a position to bounce back.
11) Kentucky (146) Like Kansas, UK was a tough team to place without knowing the status of a key freshman, in this case Turkish import Enes Kanter. The loss of five first-round picks hurts, too. But it's not as if there's a lack of talent here. Big Blue will be fine.
12) Illinois (123) For a team that missed the NCAA tourney last season, there sure is a lot of hype surrounding the Illini. Look at the roster, and it's easily the most loaded Illinois team since the 2005 national runner-up. The potential is there for a special season.
13) Gonzaga (117) Another season, another spot in the national conversation for the Zags. Losing Matt Bouldin is big, but with Elias Harris and Steven Gray still around, it's hard to foresee Mark Few's team not winning an 11th straight WCC crown.
14) Missouri (115) Four of the top five scorers are back, and Mike Anderson added the best class of newcomers of his tenure. That class becomes even better if Tony Mitchell can qualify to play during the second semester. Either way, the up tempo Tigers will be dangerous.
15) Purdue (101) The Boilermakers would've almost certainly been in our top 3 before Robbie Hummel re-tore his ACL on the first day of practice. But why anyone would count out a well-coached team with two All-America candidates is beyond us.
16) Washington (99) The unquestioned favorite in the Pac-10, the Huskies are looking to continue the March momentum, after winning the conference tourney and advancing to the Sweet 16. It would be nice to see some consistency throughout the season, though.
17) Butler (98) You might've heard a thing or two about this team. When a Horizon League program comes within a bucket of the national title, that tends to happen. Losing Gordon Hayward to the NBA hurts, but this program isn't going away anytime soon.
18) Baylor (86) Assuming LaceDarius Dunn doesn't miss more than a few games, the Bears should be right in the Big 12 mix after last season's Elite Eight run. Losing Ekpe Udoh and Tweety Carter shouldn't be overlooked, but freshman Perry Jones is the real deal.
19) Memphis (64) Wesley Witherspoon and Will Coleman are key upperclassmen, but it's no secret that this top-20 ranking is based largely upon one of the country's top recruiting classes, led by Will Barton and Joe Jackson. Will all the pieces fit?
20) Tennessee (55) Bruce Pearl and his staff had a rocky offseason, so it's easy to forget this is an Elite Eight team that added a McDonald's All-American. Three starters are gone, however, and the Vols desperately need Scotty Hopson to become a star.
21) Virginia Tech (52) Losing J.T. Thompson to an injury hurts, but the Hokies have literally everyone else back and look like a serious contender for second place in the ACC. It would be stunning if Malcolm Delaney and his teammates are sweating out Selection Sunday again.
22) Georgetown (44) There's no Greg Monroe, but there is Chris Wright, Austin Freeman, Jason Clark and John Thompson III, and that alone seems like a top-25 team to us. And there should be plenty of motivation after that embarrassing blowout loss to Ohio in the NCAA tournament.
23) Texas (38) In some ways, it's hard to take Texas seriously after last season's epic collapse from No. 1 in the country to first-round flameout in the 8-9 game. But the Horns do have a wider array of weapons after adding another stellar recruiting class.
24) Wisconsin (33) It appears we've learned our lesson: It is never wise to leave the Badgers out of your preseason top 25. The postseason success hasn't been stellar, but Bo Ryan's Badgers always finish in the Big Ten top four and play in the NCAA tourney. It's science.
25) San Diego State (29) SDSU is in the AP poll for the first time ever and the Aztecs sneak into our Power Rankings as well. And why not? The defending MWC tourney champs return five starters from a team that won 25. And Steve Fisher has coached a big game or two.