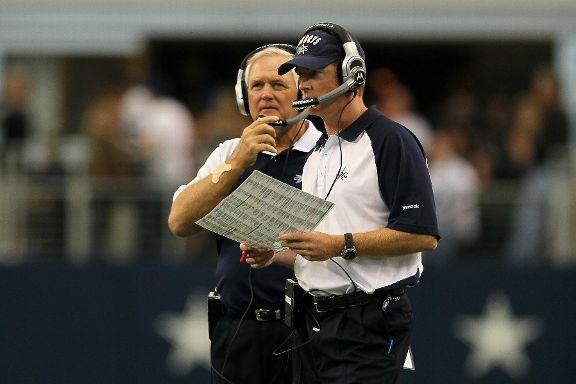 Getty Images
Cowboys fire coach Wade Phillips
There's a new sheriff in Dallas. Cowboys owner and general manager Jerry Jones fired coach Wade Phillips Monday afternoon and named Jason Garrett the interim coach for the remainder of the season. Jones' decision follows the team's 45-7 loss to the Green Bay Packers, which dropped the Cowboys to 1-7.
Steelers Hold Off Free-Falling Bengals After Capitalizing on Early Mistakes
The Pittsburgh Steelers hung on late for a big AFC North win Monday night against the Bengals. Pittsburgh turned a fumble, a blocked punt and an interception into points before barely holding on for a 27-21 victory over division-rival Cincinnati. Ben Roethlisberger threw for 163 yards, with 1 TD and 1 INT in the win. Bengals WR Terrell Owens finished with 10 receptions for 141 yards and 2 TDs in defeat.
Source: Newton Left Florida After Cheating Scandal
More negative news regarding Auburn quarterback Cameron Newton. A source told FoxSports.com that Newton had three different instances of academic cheating while attending the University of Florida and faced potential expulsion from the university. Considered by many as the front-runner for the Heisman Trophy, Newton first violated Florida's student honor code by cheating in a class during his freshman year, according to the source.
Pittsburgh Needs Late Rally to Hold Off Rhode Island to Open Season
Welcome back, college hoops. No. 5 Pittsburgh escaped with a victory Monday night against upset-minded Rhode Island. In the nation's first Division I game of the season, coach Jamie Dixon's Panthers rallied from eight points down to beat the Rams 83-75.
Upon further review. Percy Harvin said his heated dispute with Brad Childress last Friday was over an MRI the Minnesota Vikings receiver didn't want to take. "We had a little dispute," Harvin said, according to the Star Tribune. "It wasn't what people thought it was about. It was about whether I was going to get an MRI or not. It was a little dispute, but we settled it. Me and Coach are fine."
D-II Indianapolis Upsets Tennessee
Student tops teacher. The ranked Tennessee Volunteers (No. 20 ESPN/USA Today, No. 23 AP) fell to Division II Indianapolis 79-64 Monday night. Indianapolis coach Stan Gouard, who played for Tennessee coach Bruce Pearl at Southern Illinois, saw his players score 25 points off turnovers and make 33 of 40 free throws in the win.
No Quick Deal Expected for Cliff Lee
Hurry up and wait. It's no secret that teams such as the New York Yankees are interested in free agent Cliff Lee. However, Lee's agent doesn't expect any quick decisions to be made. "We are in the infancy stages," Lee's agent, Darek Braunecker, told ESPNNewYork.com. Braunecker said that he heard from "multiple" teams on Sunday when free agency began, but declined to go into specifics.
NFL Fines Packers' Collins $50K For Helmet Hit
The NFL fined Green Bay Packers safety Nick Collins $50,000 for his helmet-to-helmet hit on Dallas Cowboys WR Roy Williams. League officials say Collins "violently and unnecessarily struck a defenseless receiver" in the neck and head area with his helmet. They're calling the hit a "flagrant violation of player safety rules."
Dolphins Want Review of Spitting Claim
Miami Dolphins coach Tony Sparano has thrown a proverbial challenge flag. Sparano said Monday he wants the NFL to investigate the Dolphins' complaint that Baltimore Ravens fullback Le'Ron McClain spat in the face of linebacker Channing Crowder on Sunday.
Johnson, Gordon Switch Pit Crews For Final Races
Time for change. Crew chief Chad Knaus decided Jimmie Johnson's team needed a change. Hendrick Motorsports announced on Monday that Jeff Gordon's over-the-wall crew will replace the crew for the four-time defending Sprint Cup champion for the final two races at Phoenix and Homestead-Miami. The change is limited to the seven over-the-wall members of the teams and no other team-member roles will be affected.
Note: The Elias Sports Bureau, ESPN Stats and Information group and The Associated Press contributed to this report.