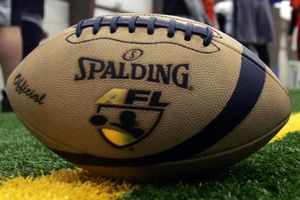 AP Photo/Mike Groll
The A is gold because it stands for "Awesome."
All is well in the world of arena football. Yes, the Arena Football League was "indefinitely suspended" in 2008. But a "new" league, Arena Football 1, just won a bid to purchase the assets of the former AFL. Which is just a lot of fancy speak for ARENA FOOTBALL IS BACK ON!
Cleveland became the latest team to sign back on Tuesday (the city had a team in the old AFL), joining the likes of the Orlando Predators, the Spokane Shock and the Tulsa Talons. Play starts in the spring of 2010 and if you're not excited about that, you should be. First, because arena football gives you football to watch while the NFL and college football are sleeping. And secondly, because AFL (sorry, AFL1) has so many things the NFL doesn't! Like…
You can't call for a fair catch:
So a kick returner can't decide he'll take the field position he has over the opposing defender ramming him to the turf. He HAS to get rammed into the turf. Every time! And there's no punting! Ever! Bill Belichick like-y.
No out of bounds:
No slinking out of bounds to avoid a tackle, no running out of bounds to stop the clock. And, better yet, "out of bounds" is just sideboards, like in hockey, so if you run along the edge, you can get slammed into the boards! A player is not out of bounds until his is pushed over the barrier! So there's potential for an actual player to end up crashing into your lap, leaving you with something you can surely sell on eBay.
Missed field goals are fun:
You know what happens if you miss a field goal in arena football? There's a rebound net behind the uprights that sends the ball back into the field of play. So it's live! A team could miss a field goal and the defending team could grab the "rebound" and run it down field for six. Action, action, action! Oh, and you can drop kick a field goal for four points. No big deal.
Everything's live:
Not only are rebounded field goals live, so are passes that bounce off the rebound nets and balls that bounce off the padded walls surrounding the field. Basically it's one giant game of Bull in the Ring, only with padding and superior athletes.