STEEL RESOLVE
The Steelers scored 17 of their 20 first-half points off two turnovers and a blocked punt. They added seven more to start the fourth quarter on a tricky touchdown pass from Antwaan Randle El. (It was tricky, but it wasn't this tricky.) That made it 27-7 before the Bengals roared back (sorry) and made it interesting with 14 unanswered points. And in the end, the Steelers held on because Jordan Shipley could not. That was because he got popped on the last play of the game at the 5-yard line by James Harrison - the same James Harrison who got popped $100k for some brutal hits so far this season. This one was legal, and it came in front of Commissioner Roger Goodell, who was part of the crowd in Cincinnati.
Recap | Walker: Action and Reaction
More from that game, including Big Ben at 90, after the jump.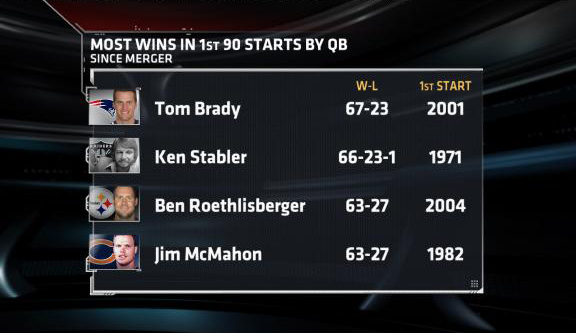 Ben Roethlisberger is now 63-27 (.700) through his first 90 career NFL starts. That's tied with Jim McMahon for the third-best winning percentage through 90 games since the NFL merger. Only Tom Brady (.744) and Ken Stabler (.739) enjoyed so much success so soon.