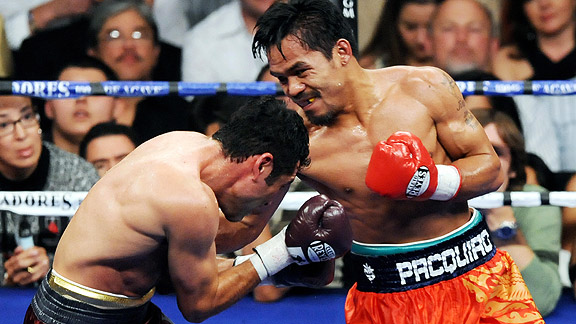 Jewel Samad/AFP/Getty Images
Manny Pacquiao likes to treat fans of his music to a few choice licks.
It wasn't the fight that everyone was hoping for (paging Floyd Mayweather Jr.), but Saturday night's main event between Manny Pacquaio with Antonio Margarito for the WBC junior middleweight title (9 PM ET) is still full of intrigue.
For starters, trainer Freddie Roach admitted that Congressman Pacquaio's political duties have interfered with his training. The singing career and duets with Will Ferrell? Team Manny may not have a problem with them, but they can't be good for the Filipino phenom's fitness. Margarito also added to the drama earlier this week when he was caught on video mocking Roach's Parkinson's disease. Will Manny have the form and speed to enact payback for that insult?
Whet your pre-fight appetite with questions we DO know the answers to:
1. Nelly (the rapper, not the former Golden State Warriors coach) will be the pre-fight entertainment. What country crossover song that Nelly cut with Tim McGraw could Manny sing at a karaoke bar?
2. The fight's going down in Dallas at Cowboys Stadium, perhaps the lone bright spot in Jerry Jones' autumn season as he tries to set a new attendance record. Which boxing match set the previous headcount mark for an indoor bout?
3. Why was Margarito suspended prior to today's fight?
4. Pacquiao has won titles in how many weight divisions?
5. Which of these is not a nickname for either boxer?
A. The Destroyer
B. The Mad Rabbit
C. Tijuana Tornado
Answers after the jump.
2. 63,315 in 1978 when Muhammad Ali fought Leon Spinks at the Superdome in New Orleans
3. His trainer was caught taping the fighter's hands with a "plaster-like substance."
4. 7
5. B