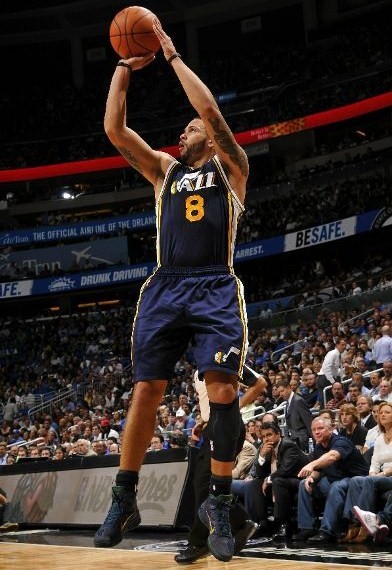 Getty Images
Jazz Hand Magic First Loss At New Amway Center
Deron Williams scored 30 points, Paul Millsap added 23 and the Utah Jazz rallied again for a 104-94 victory over the Orlando Magic on Wednesday night. A night after a 22-point comeback victory in overtime at Miami, the Jazz went down 18 points in the third quarter but came back to stun Orlando.
Vikings Percy Harvin Battling Another Migraine
Minnesota Vikings wide receiver Percy Harvin is fighting another migraine headache. Coach Brad Childress said Wednesday that Harvin was not at team headquarters. After a severe outbreak kept him out of practice for most of August, Harvin was diagnosed with sleep apnea and given a breathing machine to use while he sleeps. The migraine episodes since then have been far less frequent.
Le'Ron McClain Won't Be Fined For Allegedly Spitting
The NFL has decided against imposing any fines after investigating complaints by the Miami Dolphins that Baltimore fullback Le'Ron McClain spit in the face of linebacker Channing Crowder. Merton Hanks, the NFL director of football operations, found no conclusive evidence to support discipline. Crowder said McClain spit in his face during a timeout in Sunday's game at Baltimore, which the Ravens won. Miami coach Tony Sparano asked the league to investigate. McClain said he spit only accidentally.
Chad Pennington Replaces Chad Henne As Miami Starting QB
Chad Pennington is replacing Chad Henne as the Miami Dolphins' starting quarterback. Coach Tony Sparano made the announcement after practice Wednesday. The Dolphins (4-4) play host to Tennessee (5-3) on Sunday, when Pennington will make his first start since he suffered a season-ending shoulder injury in Week 3 last year. Sparano said, "They both have strengths, and certainly weaknesses. At this particular time, my decision is Chad Pennington's strengths might be suited a little bit more for where we need to be."
The Pittsburgh Steelers suffered a major blow to their offensive line Wednesday as starting left tackle Max Starks was put on injured reserve with a neck injury. Starks, a starter on Pittsburgh's Super Bowl-winning teams during the 2005 and 2008 seasons, suffered stingers in his neck during Pittsburgh's win over the Cincinnati Bengals on Monday night.
Jason Garrett Has Cowboys In Full Pads At First Practice
The Jason Garrett era of the Dallas Cowboys started on Wednesday, and it had a different feel than the Wade Phillips regime. Garrett, who took over for Phillips as the interim coach on Monday, had his new team practice in full pads for the first time since training camp. The Cowboys are 1-7 and mired in a five-game losing streak as they prepare for Sunday's game against the New York Giants in East Rutherford. Garrett said he expects a different effort from the one Phillips got the first eight weeks of the season.
Report: Vikings' Brad Childress Not Player Favorite
Randy Moss may be gone but the drama at Minnesota Vikings camp is far from over, according to the Chicago Sun-Times. Players and team sources spoke to the newspaper anonymously on Wednesday, airing their grievances against coach Brad Childress. "We know that [Brad] Childress doesn't have our backs, so why should we have his?" one player told the newspaper. "We're playing for us, and we're winning despite him." Childress, according to the Sun-Times, has criticized players and questioned effort. "He has absolutely no people skills," one team source said.
Scott Rolen Wins Gold Glove In Third Different Uniform
Scott Rolen won his eighth National League Gold Glove Award in his third different uniform. The slick-fielding Cincinnati Reds third baseman won his first Gold Glove since 2006, when he was a member of the St. Louis Cardinals. He was a four-time winner of the award with the Cardinals, including the 2002-05 seasons. He also won three Gold Gloves (1998-01) when he was a member of the Philadelphia Phillies. Two other members of the NL Central-winning Reds are on the team -- pitcher Bronson Arroyo (first award) and second baseman Brandon Phillips (second award). Cardinals first baseman Albert Pujols (second award) and catcher Yadier Molina (third straight) also were recognized for their defense. Houston Astros outfielder Michael Bourn also represents the division with his second straight award. The Colorado Rockies boast two first-time Gold Glove winners -- shortstop Troy Tulowitzki and outfielder Carlos Gonzalez. The other Gold Glove winner in the outfield is the Phillies' Shane Victorino, who won his third straight award.
Sources: Denver Among 3 Teams Joining WAC
The University of Denver, Texas-San Antonio and Texas State will join the WAC in 2012-13 to offset the departures of Boise State, Fresno State and Nevada to the Mountain West, multiple sources told ESPN.com. UTSA, which still needs official approval from the board of regents, and Texas State will join in all sports. Denver will join for all sports except for football, since the Pioneers don't play at the FBS level.
The Associated Press contributed to this report.