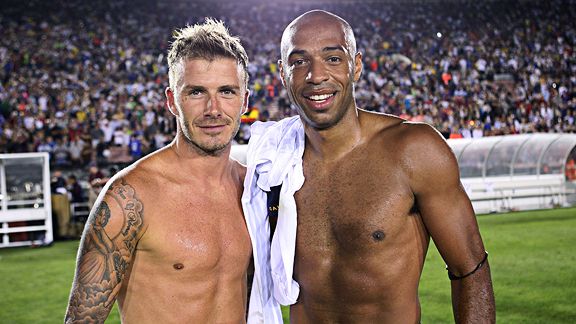 Robert Mora/MLS/Getty Image
Beckham's back-up plan? Get an operation that will graft him to Red Bulls striker Thierry Henry as a conjoined twin.
David Beckham will be a free agent in 2011, and that doesn't sit well with America's most famous soccer import. The midfielder will be 36 next year, past the usual prime years of most players, but that's not stopping him from gunning for a contract to keep him on the pitch until he's 40. True, there are rare cases like David's former Manchester United teammate Paul Scholes who can maintain top form well into his mid-to-late 30s. On one hand, given Beckham's recent injury history and dismissal from England's national team, you can imagine some clubs' reluctance to ink a long-term deal. On the other, his recent bounce-back in LA Galaxy's run for the MLS Cup suggests ol' Becks still has plenty of mileage left in the tank. Where's he going to end up? Back in AC Milan, Spain or the English Premier League?
Regardless, if he does land a new contract, we wouldn't be surprised if there were a few new incentive clauses thrown into the fine print. Will his team have the authority to approve his facial hair styles? Can Becks maintain up to 75% of his current "bend-ability"? Who'll pick up the tab for those Shake Weights he must go through in order to maintain his six-pack? And most importantly, how many Icy Hot Patches will he have to go through to remain on his feet? Our inner sports agents want to know.
In the short term, the Galaxy meet FC Dallas in the semifinals of the MLS Cup tonight on ESPN 2 at 9 PM ET.