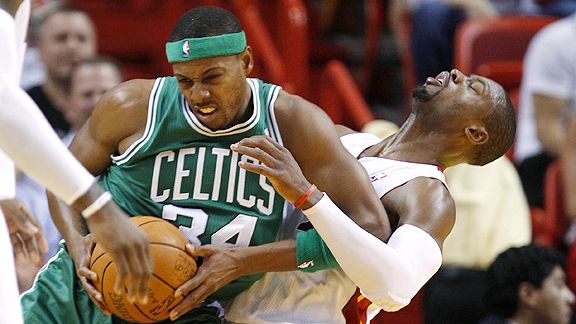 AP Photo
Ray Allen hit his first seven 3-point tries and finished with 35 points, Paul Pierce added 25 and the Boston Celtics led wire-to-wire in a 112-107 win over Miami on Thursday night, handing the Heat their second straight home loss.
Roddy White hauled in a 33-yard touchdown pass from Matt Ryan with 20 seconds remaining and the Atlanta Falcons, after squandering a 13-point lead in the fourth quarter, rallied to beat the Baltimore Ravens 26-21 on Thursday night.
Kenny Rogers: Dad Put Price On Cam Newton
Kenny Rogers, the former Mississippi State player, who ESPN.com first reported allegedly sought nearly $180,000 from Mississippi State to sign Newton to a national letter of intent, spoke to ESPN 103.3 in Dallas on Thursday afternoon. Rogers, who now operates Elite Football Preparation, which matches high school athletes with college programs, denied calling former Mississippi State quarterback John Bond directly to tell him that it would take $180,000 for Mississippi State to land Newton and said other schools had already offered $200,000. Rogers said he called another former teammate, Bill Bell, and that it was Bell who spoke to Bond. In the interview, when asked if Cecil Newton, Cam's father, ever said flat out what it would take to get his son to play for Mississippi State, Rogers said, "Yes. He did." Asked how much, he said: "Anywhere between $100,000 and $180,000."
Sterger Talks To NFL About Texts From Favre
The woman who allegedly received lewd photos and inappropriate text messages from Minnesota Vikings quarterback Brett Favre met with NFL investigators for three hours Thursday at an undisclosed location in New York City. Jenn Sterger, a former New York Jets sideline hostess, allegedly received the messages from Favre when he was a member of the team in 2008. Phil Reese, Sterger's agent, told The Associated Press in an e-mail that Sterger met with league officials and "we cooperated fully by providing them with substantial materials in our possession. We now await the NFL's decision."
Browns' Marcus Benard Undergoing Tests After Collapse
Cleveland Browns linebacker Marcus Benard has been released from a hospital after collapsing in the locker room on Thursday. Benard was sitting in a chair in front of his cubicle when he suddenly fell to the carpeted floor. Some of his teammates, who were getting dressed for practice, thought he may have been joking before linebacker Matt Roth yelled for a trainer. In a statement, the Browns said he will undergo further evaluation on Friday.
Percy Harvin Misses Practice Again With Migraine
Percy Harvin has missed another practice for the Minnesota Vikings. Harvin was not on the field at the beginning of Thursday's workout while reporters were allowed to watch players prepping for Sunday's game at Chicago. The wide receiver was absent Wednesday, too, after coach Brad Childress said Harvin was seeing a doctor after his latest episode with a migraine headache.
NCAA Rules Kentucky's Kanter Ineligible
The NCAA ruled Kentucky freshman center Enes Kanter permanently ineligible to play for the Wildcats, though the school will appeal the decision. The NCAA student-athlete reinstatement staff decided the 6-foot-11 Kanter received benefits above his actual and necessary expenses while playing for a club basketball team in Turkey. The NCAA defines actual and necessary expenses as those directly necessary for practice and competition on a team. The NCAA ruled Kanter received over $33,000 above his necessary expenses for the 2008-09 season.
X Games Icon Pastrana Heading To NASCAR
Travis Pastrana is headed to NASCAR, both as a driver and team owner. Pending NASCAR approval, the Moto X, X Games and American rally racing star plans to debut in the NASCAR Nationwide Series in 2011 under the Pastrana-Waltrip Racing banner, meaning he will own and drive Toyota Camrys provided to him by Michael Waltrip Racing.
The Associated Press contributed to this report.