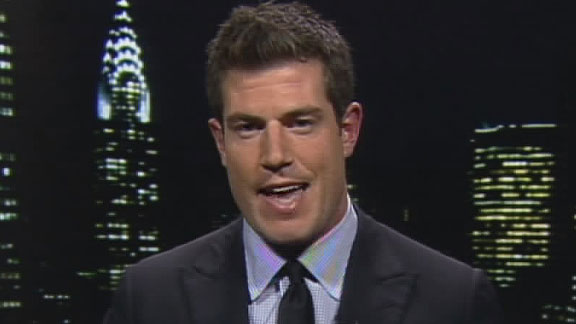 "Hey Lou, I hope you're ready for the weigh-in!"
When the No. 23 South Carolina Gamecocks travel south to face the No. 22 Florida Gators in Gainesville tonight, it will be a family affair - an ESPN family affair, that is. That's because our very own college football analysts Lou Holtz and Jesse Palmer have divided loyalties heading into tonight's matchup and histories at both schools (Holtz as the head coach of South Carolina, Palmer as the quarterback for Florida).
While South Carolina and Florida can settle their differences on the field, we'll have to go to the Tale of the Tape to see who comes out on top between Holtz and Palmer:
Age
Holtz: 73
Palmer: 32
Advantage: Holtz. Age before beauty.
Height
Holtz: 5'10"
Palmer: 6'2"
Advantage: Palmer. Though Holtz' listed height is sneaky tall.
Hometown
Holtz: East Liverpool, Ohio
Palmer: Nepean, Ontario
Advantage: Palmer. Holtz gets points for being from the "Pottery Capital of the World" but the edge goes to Palmer for being included in our list of famous "Nepeanites" alongside Steve Yzerman and Sandra Oh.
Playing Career
Holtz: Linebacker, Kent State, 1956-1957
Palmer: Quarterback, Florida, 1997-2000
Advantage: Palmer. If we had video of Holtz as a linebacker, this would be closer.
Coaching Career
Holtz: 249 wins in college football
Palmer: n/a
Advantage: Holtz. And we won't count his 3-10 season in the NFL with the Jets in 1976 against him.
TV Appearances
Holtz: The Tonight Show, Live with Regis
Palmer: The Bachelor, Law & Order: Special Victims Unit
Advantage: Holtz. Yes, Palmer was a great bachelor, but Holtz sat down with Jack Paar in 1961 - that's TV history.
So there you go - a little quick math, and it looks like we have a tie. At least there's a game tonight to settle this once and for all.