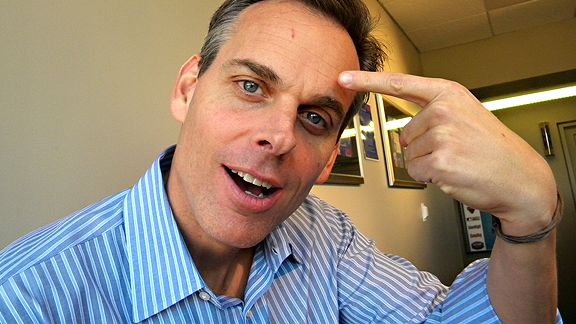 Jacqueline Purdy/ESPNRadio.com
Hey "Walking Dead" zombies, if you want to get to the center of Colin's delicious brains, you'll have to get in line.
In TV news, congratulations to Colin Cowherd of SportsNation and ESPN Radio's "The Herd" for landing a sitcom deal. The as-yet-untitled half-hour show will be based on the host's life in sports broadcasting. "Grounded for Life" creators Bill Martin and Mike Schiff will handle the head writing and producing duties, so Colin's story should be in good hands. Now comes the fun part: guessing who's going to land lead role.
Let's look at a few candidates in the field:
Steve Buscemi
We're not sure if the "Boardwalk Empire" actor has enough time in his shooting schedule, though his guest spots on "30 Rock" and an endorsement from Michelle Beadle on Twitter made us true believers. It would be a change of pace to hear Buscemi ranting about athletes. And speaking of Michelle, who's going to portray the SportsNation co-host? Think Anna Faris will be game after she's done with promoting "Yogi Bear"?
Adam Corolla
Prone to saying the occasional controversial comment on a radio show? Check. Sports an ESPN broadcast credential? Check (guest-hosted "Rome is Burning"). Probably working on getting a sitcom green-lit as we speak? Triple check.
SB Nation thinks the "Arrested Development" and "Running Wilde" star (for now) bears enough of a resemblance to pull off this particular leading man job. There's no question he can project the right amount of confidence ... but can he capture the sarcasm?
Colin Cowherd
In a move that could surprise everyone, Colin could pull a Howard Stern, cut out the middleman, and portray himself in the story of his life. And while they're at it, why not get the real Michelle Beadle to co-star? It'll be just like SportsNation, only more time spent in Colin's kitchen and favorite hangout spot with his buddies.