VICK'S VAPO-RUB
If you left Michael Vick on your fantasy bench this week, then take a deep breath because he just became the first player in NFL history to put up at least 300 yards passing (in this case, 333), 50 yards rushing (in this case, 80), four passing touchdowns and two rushing touchdowns all in the same game. (This game was a 59-28 pasting of the Redskins.) And because he still hasn't thrown an interception or lost a fumble this season, he was good for 49 fantasy points (in ESPN standard scoring leagues). If it makes you feel better, that's only tied for the third-best fantasy performance since we followed Charley Steiner to freedom around Y2K:
49
Vick could only match the 49 Mike Anderson of the Broncos put up in Week 14 of 2000 against the Saints. You might remember that as the week he set a rookie rushing record with 251 yards to go along with four touchdowns.
52
In Week 4 of the 2002 season - back before Seattle sold out and we were calling it "Seahawks Stadium" - Shaun Alexander had a Sunday night against the Vikings to remember. But only if you remember things like setting an NFL record with five touchdowns in the game's first half - including three in a span of just over a minute to end up banking 52 points.
54
But the best performance since 2000 belongs to the 2003 version of Clinton Portis, who was with the Broncos in Week 14 of that season when he put up 54 fantasy points. That happens when you rack up 218 yards and five touchdowns. (No bonus points for doing it against the eventual division-winning Kansas City Chiefs.)
Recap | Other Fantastic Fantasy Guys
More from that game, including a tweet tweak of Donovan McNabb's performance, after the jump.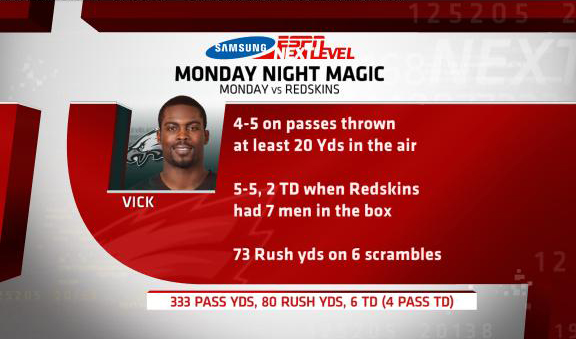 Let's go Samsung Next Level and be thoroughly impressed by what Michael Vick did. He was 4-for-5 on passes that traveled at least 20 yards, which is pretty impressive considering he had completed just 7 of those passes this season. And he was 5-for-5 with two touchdown passes when the Redskins put seven men in the box. And 73 of his 80 yards rushing came on the six instances he was forced to scramble.
MEANWHILE, MCNABB's MONEY (BUT HE'S NOT)
Before the game, the Redskins apologized for benching Donovan McNabb by signing him to a five-year, $78 million dollar contract extension. To celebrate, he went out and threw three interceptions. All three interceptions came on third down, and two of them came when the Eagles sent at least one member of the secondary as part of the pass rush. Which made last night the first time he's thrown a pick under those circumstances since Week 11 of 2008 against Cincinnati, which also happens to be the last time he threw three picks in a game. Which made T.O. tweak him on Twitter, tweeting, "How do u justify a 78 million dollar contract w/this type of performance?" (On second thought, maybe that tweet tweaks the 'Skins.) (On third thought, only $40 million is guaranteed, so...)