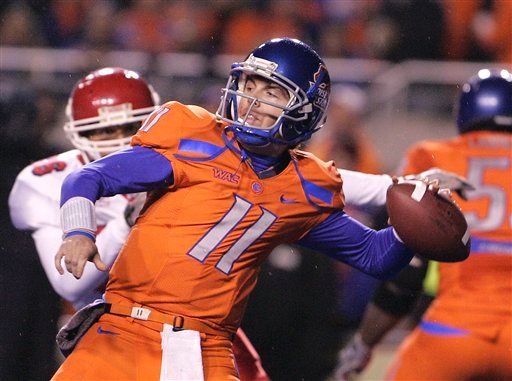 AP Photo/Matt Cilley
Boise State Handles Fresno State, Stays Unbeaten
Still unbeaten. No. 4 Boise State handled its business at home, defeating Fresno State 51-0. The Broncos now have a 24-game win streak and a 35-game regular season win streak - both longest in the FBS. Heisman candidate QB Kellen Moore was sensational for the Broncos, completing 27 of 38 passes for 333 yards, with 4 TDs and 1 INT during the win.
Colt Brennan in Serious Condition
Colt Brennan, former University of Hawaii star and Washington Redskins quarterback, and two women were seriously injured in a two-car crash on Hawaii's Big Island. Brennan's father, Terry, told KITV-TV in Honolulu that his son suffered broken ribs, a broken left collarbone and head injuries in the crash. Terry Brennan said doctors didn't know the severity of the head injuries.
SEC Suspends Bruce Pearl 8 Games
Tennessee will play its first 8 SEC games without head coach Bruce Pearl. SEC commissioner Mike Slive suspended Pearl as a result of his admitting to the NCAA that he violated recruiting protocol in 2008 when he had recruits come to his home.
Russell Westbrook Scores 31 as Thunder Hold on for Road Upset vs. Celtics
The Celtics three-game win streak is over. Russell Westbrook scored 31 points, leading the Oklahoma City Thunder to an 89-84 win Friday night. The Thunder were without an injured Kevin Durant (left ankle). Kevin Garnett scored 16 points to lead the Celtics.
Sidney Rice: 'I'm going to play' Sunday
Vikings wide receiver Sidney Rice says he will make his regular season debut Sunday against the Packers, according to ESPN's Ed Werder. "I'm going to play," Rice said. "I don't think I can go the whole game but I'm going to play as much as I can." Rice underwent hip surgery in late August, just a few days after quarterback Brett Favre rejoined the Vikings in the preseason.
Kansas Freshman Josh Selby to Return December 18
Paying his penalty. The NCAA announced Kansas freshman Josh Selby, one of the nation's top recruits, must sit out nine games and repay the $5,757.58 he received through impermissible benefits to the charity of his choice. Selby will be eligible to return December 18.
Pat Burns Dies After Battle with Cancer
Pat Burns, the former Montreal police officer who led New Jersey to the 2003 Stanley Cup title and was the NHL's coach of the year with three teams, died Friday at the age of 58. Burns battled cancer of the colon and the liver in 2004 and 2005, but in January 2009 doctors found it had spread to his lungs.
USC's Dillon Baxter Out vs. Oregon St.
Laying down the law. USC freshman tailback Dillon Baxter did not accompany the Trojans on their flight to Saturday's game against Oregon State because of concerns he may have recently been in contact with an agent, USC coach Lane Kiffin said Friday.
Jimmie Johnson Best Among Contenders
Kasey Kahne won the pole Friday for the season-finale race at Homestead-Miami Speedway. Kahne's lap of 176.904 mph earned him the spot. Jimmie Johnson turned a lap of 176.482 mph and will start sixth, while Kevin Harvick qualified 28th and Denny Hamlin was 38th. Hamlin is 15 points ahead of Jimmie Johnson and 46 points up on Harvick heading into Sunday's race.
Drayton McLane Ready to Sell Astros
Team for sale. Houston Astros owner Drayton McLane announced his decision to put the team up for sale on Friday. The 74-year-old McLane said he's retained the New York investment firm Allen and Company to help him unload the team he purchased in November 1992 for about $117 million, according to KRIV-TV, which first reported McLane's agreement with the investment firm. Dallas Mavericks owner Mark Cuban sent an e-mail to ESPNDallas.com that read, "No interest in buying the Astros".
Note: The Elias Sports Bureau, ESPN Stats and Information group and The Associated Press contributed to this report.