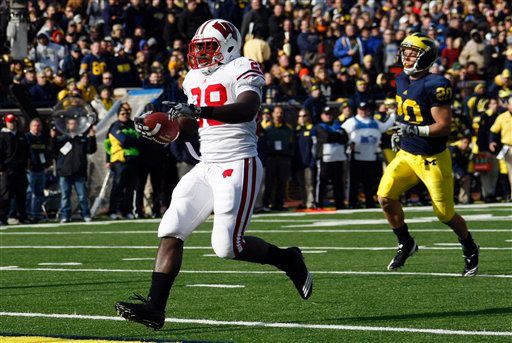 AP Photo/Tony Ding
Wisconsin Rolls, Michigan QB Robinson Breaks Records
Wisconsin's Montee Ball and James White combined for 354 yards rushing and 6 TDs during the Badgers' 48-28 victory over Michigan on Saturday. Despite the loss, Michigan's Denard Robinson passed Beau Morgan and set the new FBS record for most rushing yards in a season by a QB. His total for the year now stands at 1,538 yards. Robinson also became the first player in NCAA history (not just FBS) with 1,500 passing yards and 1,500 rushing yards in a season.
Rudy Gay's Buzzer-Beater Over LeBron James Lifts Grizzlies Past Heat
Rudy Gay's fadeaway jumper, as time expired, buried the Heat 97-95 Saturday night. Gay finished with 15 points. LeBron James led the Heat with 29 points and 11 assists. Dwyane Wade missed the game because of a sprained left wrist, suffered Friday night against the Bobcats.
Vikings WR Sidney Rice is expected to make his 2010 debut Sunday against the Green Bay Packers. This according to the Minneapolis Star Tribune, which reports Rice was placed on the Vikings' 53-man roster on Saturday. It's been nearly three months since Rice underwent hip surgery, which landed him on the physically unable to perform list.
Taylor Martinez Re-Injures Ankle as Nebraska Stumbles vs. Texas A&M
The defensive battle goes to the Aggies. No. 19 Texas A&M defeated No. 8 Nebraska 9-6 Saturday night. Aggies RB Cyrus Gray rushed 26 times for 137 yards during the win. Huskers QB Taylor Martinez was 11 of 17 for 107 yards with 1 INT in defeat.
Source: Peja Stojakovic to Toronto
A principle agreement. The New Orleans Hornets and Toronto Raptors have agreed in principle on a five-player trade that would send Peja Stojakovic and Jerryd Bayless to the Raptors in exchange for Jarrett Jack, David Andersen and Marcus Banks, a source told ESPN.com Saturday.
LSU Needs Late Rally to Hold Off Mississippi's Upset Bid
The cardiac cats did it again. LSU trailed 36-35 with 4:57 left before a game-winning drive was capped by RB Stevan Ridley's third-rushing touchdown. LSU QB Jordan Jefferson passed for a career-high 254 yards, threw for one touchdown and ran for another during the win.
Colt Brennan Remains in Hospital
Former University of Hawaii quarterback Colt Brennan remains hospitalized, but is in stable condition, after he was hurt in a two-car crash on Hawaii's Big Island Friday. Brennan's father - Terry - told Honolulu TV stations that his son suffered broken ribs, a broken left collarbone and head injuries when the SUV in which he was a passenger, crossed the center line on a highway, colliding head-on with another car.
Jim Leyritz Acquitted in Florida
A jury in Florida Saturday acquitted former MLB player Jim Leyritz of DUI manslaughter in a 2007 crash that killed a mother of two. However, Leyritz was convicted on a misdemeanor charge of driving under the influence, which carries a maximum sentence of six months in jail. Leyritz was facing up to 15 years in prison if convicted on the manslaughter charge.
One step closer. Second-half substitute Alex Morgan kept Team USA's hopes alive for the women's World Cup. Morgan scored a last-gasp winner Saturday for a 1-0 victory over Italy in the first leg of a playoff to determine the final spot in next year's tournament.
USC Trojans freshman tailback Dillon Baxter has been ruled ineligible to compete for the team because he solicited a ride in a golf cart on USC's campus from an NFLPA-certified agent. The incident, which happened Thursday, is a violation of NCAA rules concerning extra benefits, school officials confirmed Saturday. USC self-reported the infraction and filed an official request with the NCAA for Baxter's reinstatement.
Note: The Elias Sports Bureau, ESPN Stats and Information group and The Associated Press contributed to this report.