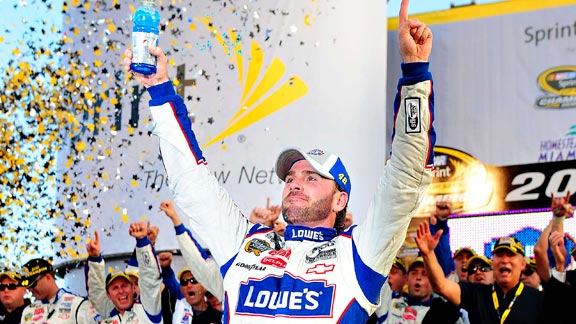 Kevin Liles/US Presswire
Is it possible that this photo was taken at the top of the steps at the Philadelphia Museum of Art?
Stop us if you've heard this one before: Jimmie Johnson has won the NASCAR Sprint Cup Championship. And although he came into Sunday 15 points behind Denny Hamlin, few doubted his ability to become the first driver to overcome a points deficit with one race remaining in the Chase era. Shortly after Carl Edwards took the checkered flag at the Ford 400 at Homestead-Miami Speedway, Johnson captured his fifth straight title by finishing second in the race.
How impressive has Johnson's reign atop NASCAR been over the past five years? Well, in one word, "ridiculously." And a quick glance around the world of sports seems to confirm that obvious fact. Because it's not every day that any of us get to witness a five-peat. With this in mind, here's a rundown of some of the greatest championship streaks in sports history. You know, for comparison's sake.
Five Straight Super Bowls
None (multiple teams tied at two)
Five Straight World Series Titles
New York Yankees 1949-1953 (5)
Five Straight NBA Championships
Boston Celtics 1959-1966 (8)
Five Straight NHL Championships
Montreal Canadiens 1956-1960 (5)
Five Straight Bad Boxing Sequels
Rocky Franchise 1979-2006 (5)