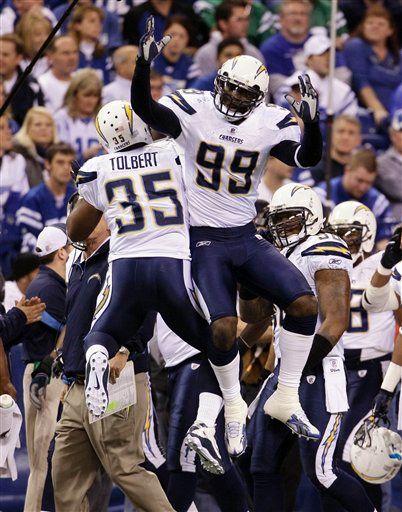 AP Photo/Darron Cummings
Chargers Torment Peyton Manning to Dispatch Colts, Win 4th Straight
Philip Rivers and the San Diego Chargers got the best of Peyton Manning and the Colts Sunday night, winning 36-14. The Chargers defense forced Manning into 4 interceptions, two were returned for scores. Rivers finished 19 of 23 for 185 yards during the win. Peyton Manning finished 31 of 48 for 285 yards, with 2 TDs in defeat. It was the worst home loss of his career.
Auburn Overtakes Oregon as No. 1
There's a new king of the hill in college football. Cam Newton and the Auburn Tigers overtook Oregon as the No. 1 team in the BCS standings, released on Sunday. TCU remained No. 3 following its win over New Mexico. After Boise State's loss to Nevada, Stanford moved to No. 4 and Wisconsin is No. 5 after it scored 70 against Northwestern Saturday. Ohio State, Arkansas, Michigan State, Oklahoma and LSU rounded out the Top 10.
Texans' Johnson, Titans' Finnegan brawl in 4th
Houston's Andre Johnson and Tennessee's Cortland Finnegan were ejected for fighting during the Texans' 20-0 win Sunday. Johnson, who landed at least two punches to Finnegan's head and neck, later expressed remorse. "I would like to apologize to the organization, our owner, my teammates," Johnson said. "What happened out there wasn't me. I just lost my cool and I wish I could take back what happened but I can't. I'm pretty sure I'll be disciplined for it, I'll have to deal with it from there."
Source: Jon Gruden in Talks With "The U"
Just one day after Miami (FL) fired head coach Randy Shannon, there seems to be a strong candidate for "The U". Multiple reports Sunday say Jon Gruden could be interested in the job. Gruden released a statement saying, "I am committed to Monday Night Football and to ESPN. I enjoy working with Mike, Jaws and our entire crew and am just trying to get better at this job". Elsewhere, the Indiana Hoosiers need a head coach after firing Bill Lynch, who went 19-30 in four seasons.
Bears Contain Michael Vick as Jay Cutler's 4 TDs Too Much for Eagles
The Chicago Bears are 8-3 and atop the NFC North following their 31-26 win over the Eagles Sunday. The Bears defense limited Eagles QB Michael Vick, who was 29 of 44 for 333 yards, with 2 TDs and 1 INT in defeat. Meanwhile, Jay Cutler threw for 4 TDs (for the 3rd time with Chicago) and 0 INTs during the Bears win.
Falcons Top Packers, Move to 9-2
Chalk up another home win for QB Matt Ryan and the Atlanta Falcons, who defeated the Green Bay Packers 20-17 on Sunday. Ryan finished 24 of 28 for 197 yards and 1 TD in the win, which moved the Falcons to 9-2 atop the NFC South. Green Bay's QB Aaron Rodgers finished 26 of 35 for 344 yards, throwing for 1 TD and running for another in defeat.
Source: Broncos Apologized to 49ers
Before the Denver Broncos' videotaping scandal became public, the team had already apologized to the San Francisco 49ers. This according to a source familiar with the situation. Broncos owner Pat Bowlen called 49ers owner John York to apologize for his team's actions and each of the top layers of the Broncos organization called his matching 49ers colleague to apologize. San Francisco was satisfied with the apologies, the NFL's explanation and believes the case is closed.
Vikings Lose Peterson, But Defeat Redskins in Leslie Frazier's Debut
Leslie Frazier's debut as the Vikings head coach ended victoriously on Sunday. Despite losing RB Adrian Peterson to a right ankle injury, Minnesota defeated Washington 17-13, ending a nine-game road losing streak. Vikings QB Brett Favre was 15 of 23 for 172 yards during the win. Redskins QB Donovan McNabb finished the day 21 of 35 for 211 yards, with 1 TD and 1 INT in defeat.
Deion Sanders Among HOF Semifinalists
Deion Sanders and three of the top 10 rushers in NFL history headline a list of 26 semifinalists for the Pro Football Hall of Fame's class of 2011, released on Sunday. Curtis Martin, Jerome Bettis and Marshall Faulk join Sanders as those in their first year of eligibility. The announcement will be made on February 5, the day before the Super Bowl.
Federer Conquers Nadal to Claim ATP Finals Title
Roger Federer ended his season in style, defeating Rafael Nadal. Federer gave "Rafa" little chance to mount a challenge in the 22nd meeting between the high-profile duel, winning his fifth season-ending title 6-3, 3-6, 6-1 at the ATP World Tour Finals on Sunday.
Note: The Elias Sports Bureau, ESPN Stats and Information group and The Associated Press contributed to this report.