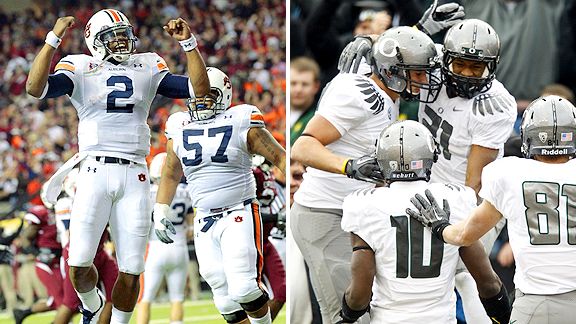 AP Photo, US Presswire
Cam Newton's 6-TD Day Leads Auburn to SEC Championship and BCS Title Game
Cam Newton was sensational on Saturday, leading No. 1 Auburn over No. 19 South Carolina 56-17 in the SEC title game. Newton threw for 4 TDs and ran for two more, keeping the Tigers unbeaten and likely to face No. 2 Oregon in the BCS title game January 10.
Ducks Wrap up BCS Berth by Bouncing Beavers
Heisman Trophy contender LaMichael James ran for 134 yards and two scores, leading No. 2 Oregon over Oregon State 37-20 on Saturday. The matchup becomes official Sunday, but the final Bowl Championship Series standings will likely have the Ducks playing the top-ranked Tigers on January 10 for their first national championship.
Source: Derek Jeter, Yanks Agree
Derek Jeter will remain a New York Yankee for at least the next three seasons. According to an official with knowledge of the contract, Jeter is guaranteed $51 million over three years, with an $8 million player option for a fourth year.
Sources: Adrian Gonzalez to Red Sox
The San Diego Padres and Boston Red Sox have agreed to a deal, in principle, to send slugger Adrian Gonzalez to Boston, sources tell ESPN. Boston continued Saturday night to work on a long-term contract with Gonzalez, a source, who indicated that the negotiation window will close at 2 p.m. ET on Sunday, told ESPNBoston.com's Gordon Edes. Boston would include its top-pitching prospect, Casey Kelly, in the trade, along with first baseman Anthony Rizzo, outfielder Reymond Fuentes and a player to be named later.
Oklahoma Overcomes Slow Start to Top Huskers
The No. 9 Oklahoma Sooners started slowly, but finished in victorious fashion, defeating No. 13 Nebraska 23-20 on Saturday Night. Sooners QB Landry Jones finished 23 of 41 for 343 yards, with 1 TD and 1 INT in the win. Nebraska RB Roy Helu Jr. finished with 91 yards and 1 TD in defeat.
Virginia Tech Headed to Orange Bowl as Tyrod Taylor Burns Florida State
Tyrod Taylor threw 3 TDs and ran for another as No. 15 Virginia Tech defeated No. 21 Florida State 44-33 on Saturday. With the win, the Hokies captured their third Atlantic Coast Conference title in four years.
LeBron, Daniel Gibson Clear The Air
LeBron James said he and former Cavs teammate Daniel Gibson remain friends despite some awkward moments and some tough talk during and after James' return to Cleveland this week. James implied that Gibson felt he was misquoted and said everything is now fine between the two. Meanwhile, the Heat defeated Atlanta 89-77 on Saturday, its fourth straight win. James, Dwyane Wade and Chris Bosh combined for 75 of the Heat's 89 points.
NFL Players' Union: Prepare for Pending Lockout
Be careful with your money. The NFL players' union is telling its members to save their last three game checks this year in case there's no 2011 season. NFLPA executive director DeMaurice Smith said in a letter to the players, dated Wednesday and seen by The Associated Press, that the union had an "internal deadline" for agreeing to a new collective bargaining agreement. "That deadline has now passed," Smith wrote. NFL spokesman Greg Aiello said the deadline is "disappointing and inexplicable" and the NFL is ready to "negotiate anytime and anywhere."
Nolan Smith Leads Duke Past Butler in Rematch of National Championship
The top-ranked Duke Blue Devils are 8-0 and won their 18th straight game, defeating Butler 82-70 on Saturday. With the win, Duke coach Mike Krzyzewski tied Adolph Rupp for third place on the all-time coaching wins list (876).
UConn Clinches BCS Bid on Dave Teggart's Last-Minute 52-Yard FG
The UConn Huskies are going to their first ever BCS bowl, following their 19-16 victory over USF on Saturday. Huskies JR kicker Dave Teggart booted four field goals on the night, including the game-winner from 52 yards out with 17 seconds to play in the game.
Note: The Elias Sports Bureau, ESPN Stats and Information group and The Associated Press contributed to this report.