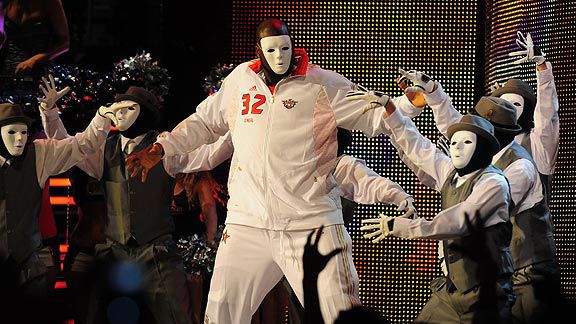 Barry Gossage/Getty Images
The JabbaWockeeZ haven't been confirmed for tonight's party, but they'd probably dominate the Michael Jackson video game anyway.
Shaq's always been big on the holiday spirit, throwing toy drives and other charity events for kids from Orlando to L.A. His latest Christmas shindig involves treating members of a Boston-area Boys & Girls Club to an MJ-themed party. No, not Michael Jordan -- Michael Jackson (although a crossover based on "Jam" would be pretty cool). The schedule includes a video game dance-off portion where O'Neal will challenge the youngsters to "Michael Jackson: The Experience." It's quite fitting that the big guy would choose Jackson, as his entire career could be set to a soundtrack of The Gloved One.
Orlando Magic (1992-1996)
Highlights: First overall pick in NBA Draft, 1993 NBA Rookie of the Year, NBA Scoring Title, two shattered backboards
Michael Jackson Theme Song: "Wanna Be Startin' Something"
Los Angeles Lakers (1996-2004)
Highlights: Dream Team II, three NBA titles, three NBA Finals MVPs, almost became first unanimous regular season MVP in league history.
Michael Jackson Theme Song: "Bad" (as in Shaq was a really, REALLY bad man on the court)
Miami Heat (2004-2008)
Highlights: 14th-straight All-Star appearance, first NBA title for Miami Heat franchise
Michael Jackson Theme Song: "You Are Not Alone" (Dwyane Wade was there with you)
Phoenix Suns (2008-2009)
Highlight: Co-MVP of 2009 All-Star Game
Michael Jackson Theme Song: "Do You Remember The Time" (he was the most dominant center in the league, after getting outscored by Dwight Howard on March 3, 2009)
Cleveland Cavaliers (2009-2010)
Highlight: ESPN Scrabble commercial. "Don't worry about it" indeed.
Michael Jackson Theme Song: "Will You Be There" (for both LeBron and Shaq, that answer was "no.")
Boston Celtics (2010-present)
Michael Jackson Theme Song: "One More Chance"
Unlike the "Man in the Mirror" Shaq, we're not asking you to change your ways.