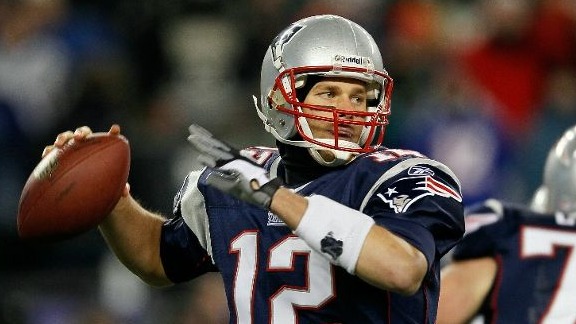 Photo by Jim Rogash/Getty Images
Tom Brady Picks Apart Jets as Patriots Romp
It wasn't even close. The New England Patriots dominated the New York Jets 45-3 on Monday night. Tom Brady threw for 326 yards with 4 TDs during his NFL record 26th straight home victory. At 10-2, the Patriots own the best record in the AFC and sit atop the AFC East. Jets QB Mark Sanchez went 17 of 33 for 164 yards with 3 INTS during the loss.
The Denver Broncos fired coach Josh McDaniels Monday. McDaniels' stint as head coach for nearly two years, was marred by the Spygate II videotape scandal, a series of personnel blunders and the franchise's worst skid in four decades. Running backs coach Eric Studesville will serve as interim coach for the final month.
Don Meredith, the former Dallas Cowboys quarterback who later joined Howard Cosell and Frank Gifford on ABC's "Monday Night Football" has died. Meredith's wife, Susan, told The Associated Press her husband died Sunday in Santa Fe after suffering a brain hemorrhage and lapsing into a coma. The man affectionately known as "Dandy Don" was 72.
Coach: Rest Key for Brett Favre
If Vikings QB Brett Favre can throw, he'll go. Vikings coach Leslie Frazier said Favre's bruised shoulder joint can't be treated surgically and he would be surprised if Favre doesn't make his league-record 298th straight start Sunday against the Giants.
NFL Will Fine for Hit on Heath Miller
Ravens linebacker Jameel McClain and defensive lineman Haloti Ngata both felt he NFL's wrath for hits to the head in Sunday night's 13-10 loss to the Steelers. McClain was fined $40,000 for his helmet hit that left Steelers tight end Heath Miller concussed, while Ngata drew a $15,000 fine for a hit to the face of Ben Roethlisberger, breaking the QB's nose . ESPN NFL Insider Adam Schefter reported that "Big Ben" had his nose surgically repaired Monday and is expected to play Sunday against the Bengals.
Red Sox Trade for Adrian Gonzalez
Deal done. The Boston Red Sox officially introduced Adrian Gonzalez as a member of the team Monday. The San Diego Padres All-Star 1B was traded to Boston in exchange for three minor leaguers and a player to be named later.
Pat Gillick Elected to Hall of Fame
Former general manager Pat Gillick has been elected to baseball's Hall of Fame. Gillick won World Series titles with the Blue Jays in 1992 and 1993 and with the Phillies in 2008. Former players' association head Marvin Miller and late Yankees owner George Steinbrenner fell shy of the necessary 75 percent in voting by the 16-member Veterans Committee announced on Monday. The Hall of Fame induction ceremony is July 24.
Four Finalists Named for Heisman Trophy
Auburn quarterback Cam Newton and Oregon running back LaMichael James will compete for the Heisman before the BCS title January 10. Both players will be joined by Stanford's Andrew Luck and Kellen Moore of Boise State as the four finalists for Saturday's Heisman Trophy presentation.
Albert Haynesworth Rips Into 'haters'
Albert Haynesworth defended himself amidst rumors that he was hungover at practice last week. Haynesworth told 106.7 The Fan Monday that the lie was leaked by "some kind of haters in the organization." Haynesworth said his meeting with coach Mike Shanahan will have to wait at least a day because the DL is too upset to go to Redskins Park Tuesday.
LeBron James Relates to Brett Favre
Before the Miami heat won their fifth straight game, Monday against the Bucks, LeBron James compared his experience leaving Cleveland with Brett Favre's departure from Green Bay. "Brett [had] great years here in Green Bay, and any time a great competitor like that leaves, no one wants to see that, but they've done a great job of regrouping with Aaron Rodgers and I believe that Cleveland will do the same," James said.
Note: The Elias Sports Bureau, ESPN Stats and Information group and The Associated Press contributed to this report.