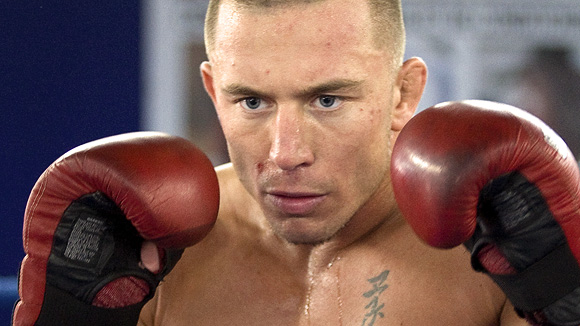 AP Photo/The Canadian Press, Paul Chiasson
When he's not training mascots, GSP likes to keep his eyes on the prize.
The latest installment of Dana White's premier MMA circuit travels to chilly Montreal as UFC 124 (10 PM ET) fires up Saturday night. The title bout features Quebec's favorite fighting son George St. Pierre as defends his welterweight title against professional instigator Josh Koscheck. It's a rematch of two strong grapplers who may have already topped the league's pre-fight trash-talking record. We could be in for an historic evening -- and that's not counting the matches leading up to the main event. Whet your appetite with a quick gauge of how well you know tonight's card:
1. Josh Koscheck appeared as an enforcer of the hero in which music video:
a) O.A.R.'s "This Town"
b) Chevelle's "I Get It"
c) Red Hot Chili Peppers' "Can't Stop"
d) Nelly's "Just A Dream"
2. In an interview this week, Georges St. Pierre said that Koscheck was the number-one challenger in the world, and NOT a ______.
a) diaper dandy
b) pushover
c) natural blonde
d) tomato can
3. Lightweight fighter Mac Danzig claims to be the only _____ in mixed martial arts.
a) vegan
b) Glenn Danzig fan
c) wakeboarder
d) Dungeons & Dragons player
4. What's the nickname of undefeated heavyweight Sean McCorkle?
a) McPoundy
b) Super Meat Boy
c) Big Sexy
d) The Incredible Bulk
5. Thiago Alves' primary martial arts training is in:
a) Pancrase
b) Brazilian Jiu-Jitsu
c) Muay Thai
d) Savate
Answers after the jump ...
1. b
2. d
3. a
4. c
5. c