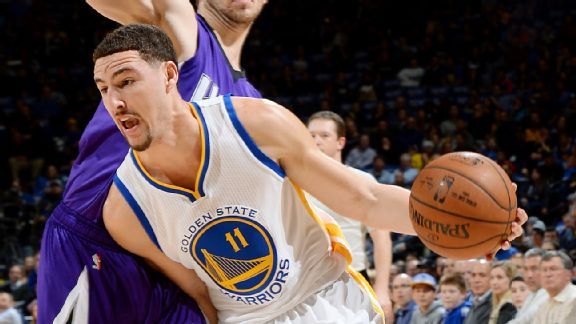 Noah Graham/NBAE/Getty Images
Klay Thompson scored an NBA-record 37 points in the third quarter on Friday against the Kings.Klay Thompson made his case to be a 2015 Western Conference All-Star and then some in 12 amazing minutes on Friday night against the Kings.
Thompson scored 37 points in the third quarter, the most in a quarter in NBA history, breaking the mark of 33 shared by George Gervin and Carmelo Anthony.
Perhaps more amazing than that: Thompson was 13-of-13 from the field and 9-of-9 from 3-point range. The nine 3-pointers set a record for a quarter. The 13 field goals tied the NBA mark. Thompson's teammates were a combined 1-of-7 from the field for four points in the quarter.
Most Points in a Quarter
NBA History
Thompson finished with 11 3-pointers for the game, one shy of the NBA record shared by Kobe Bryant and Donyell Marshall. He shot 73 percent from 3-point range, the best by a player with at least 15 3-point attempts in a game.
Thompson's performance nearly mimicked that of his teammate, Stephen Curry against the Knicks at Madison Square Garden in February, 2013.
Curry shot 64 percent from the field, made 11 3-pointers and finished with 54 points that day. Thompson shot 64 percent from field, made 11 3-pointers and had 52 points in this game.
Coincidence of the Night
Klay and his father, Mychal, each got to be a part of points-in-a-quarter history at Oakland Coliseum.
Mychal Thompson played in the game in which Sleepy Floyd set the NBA playoff record for points in a quarter with 29 for the Warriors against Thompson's Lakers.