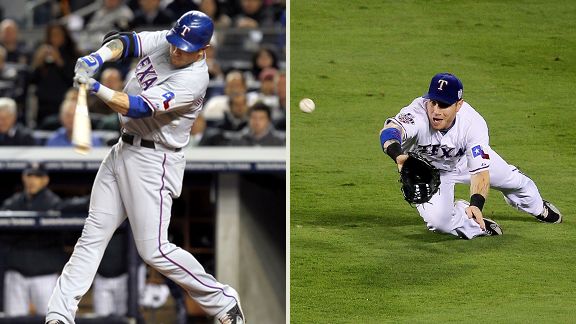 Getty Images
Josh Hamilton's offensive and defensive contributions make him the AL MVP favorite.
Voters for the AL Cy Young had a decision to make on whether they valued wins or other statistical measures most when considering baseball's top pitcher.
Those choosing for AL MVP have a different consideration to ponder. Is it okay for the MVP to miss a significant number of his team's games?
There are a multitude of candidates for the American League's top honor (the winner will be announced this afternoon), and the one with the best numbers has one shortcoming. Texas Rangers outfielder Josh Hamilton played in only 133 of the team's 162 contests.
It has been a long time since AL MVP voters were willing to embrace an extended absence. The last position player to win the AL award with fewer games played in a non-strike season was George Brett (119 games played) for the 1980 Kansas City Royals.
Highest Wins Above Replacement
AL in 2010 (Position Players)
The key to Brett's win was that his numbers dwarfed everyone else's. Hamilton's do in certain regards. He led the AL in batting average, slugging percentage and OPS. He hit .405 with a 1.166 OPS from June 1 on. His .401 batting average against right-handed pitching was the second-best of any big leaguer in the past 35 years.
Additionally, Hamilton had a considerable lead on anyone else in the league in the metric Wins Above Replacement. WAR, tracked by Fangraphs.com attempts to combine the value of a player's offensive contributions (based on a weighted version of on-base average that assigns values to home runs, triples, doubles, singles and walks) and defense (based on a metric that rates the ability to turn batted balls into outs, deter baserunner advancement, and avoid errors).
Hamilton rated eight wins above a replacement-level player, considerably ahead of any other position player in the AL.
Is that enough? That depends on how you feel about the other major candidates. A quick statistical snapshot for each:
Miguel Cabrera
Highest Win Probability Added
AL in 2010 (Position Players)
Cabrera, trying to become the first Detroit Tigers position player to win the MVP since Hank Greenberg in 1940, led the AL in on-base percentage and RBI and ranked in the top three in batting average, OPS, and home runs. He also topped the AL in the metric Win Probability Added (explained more in Monday's MVP preview), which rates offensive impact on the basis of how much each plate appearance contributed to winning.
Robinson Cano
Cano ranked among the top offensive and defensive players at second base all season. He was especially dominant early in the year, hitting .334 with 21 home runs and 71 RBIs in his first 102 games. Cano was the Yankees' top clutch hitter all year. Bill James Online has a variety of measurements regarding performance in key spots and had Cano hitting .326 with a .449 slugging percentage in them. The rest of the Yankees measured .226/.375.
Konerko ranked in the top four in the American League in slugging percentage, OPS and home runs, putting him into the mix. He's also someone whose performance was meaningful despite his team not making the postseason. Konerko hit .311 with a .947 OPS and 21 home runs in situations in which the White Sox were ahead or trailing by three runs or fewer.