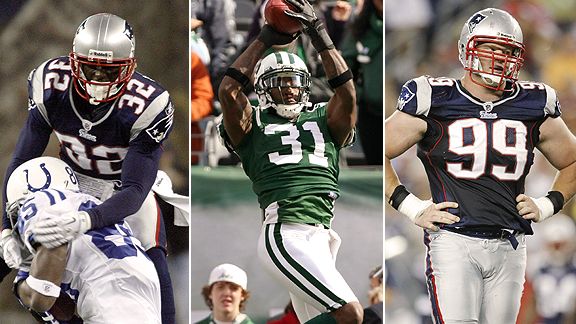 US Presswire
Devin McCourty (left), Antonio Cromartie (middle) and Mike Wright (right) could be difference-makers in Monday's Jets-Patriots clash.
As the most-anticipated Monday Night Football game of the season draws closer, the biggest names in the New York Jets-New England Patriots rivalry, almost all of whom make their living on the offensive side of the ball, will take center stage.
But which defensive players might have an unforeseen impact on the biggest game of the year? Here are three top candidates:
Patriots CB Devin McCourty
Only three players in the league have more interceptions than Devin McCourty, the rookie from Rutgers, whose five are the most by a Patriots first-year player since Maurice Hurst in 1989, and tied for the second-most in team history. All five of McCourty's interceptions have come since Week 7, tying him with Asante Samuel and DeAngelo Hall, both former Pro Bowlers, for the NFL lead over that span.
No one has been better at picking off deep passes than McCourty, who leads all players with five interceptions on passes thrown more than 15 yards down the field.
He is a major reason New England is holding opposing quarterbacks to a rating of 74.4 on passes of 15 or more yards, 12th-best in the league. On throws within 14 yards of the line of scrimmage, the Patriots are allowing a passer rating of 98.9, better than just four NFL teams.
Jets CB Antonio Cromartie
For the second straight season, no team has been better at defending the deep ball than the Jets. Rex Ryan's defense is allowing opposing quarterbacks to complete 28.6 percent of their passes for 7.4 yards per attempt with a 54.0 passer rating on balls thrown at least 15 yards downfield-- all league best marks.
With MVP-caliber cornerback Darrelle Revis missing two full games and playing hurt in several others, Cromartie has stepped up in a big way. His 15 passes defensed are the second-most in the league and seven more than any other Jets player.
Tom Brady
Lowest Passer Rating in Second Half
It was Cromartie who led the Jets comeback vs the Patriots in Week 2, picking off Tom Brady on New England's first possession of the third quarter and breaking up a pass that led to a Brodney Pool interception on the first play of the fourth quarter.
Cromartie and the Jets defense held Brady to 7-for-16 for 69 yards with no TDs and two interceptions in the second half in Week 2, all with Revis watching from the trainer's room. Only twice in his career has Brady had a lower passer rating in the second half of a game than he did against Cromartie and the Jets.
Patriots DE Mike Wright
Assuming he can return after missing last week's win vs the Lions with a concussion, Patriots defensive end Mike Wright will start Monday night's game with more sacks this season (a career-high 5.5) than any other player on the field; a fact even more surprising when you consider that the likes of Jason Taylor, Calvin Pace and Bart Scott will be on the opposing sideline.
Since the Patriots bye week in Week 5, only three players in the AFC have more sacks than Wright's 4.5.