The Cleveland Indians figure to remain largely intact for 2018, as they will once again have to chase their first World Series title since 1948 after losing in the ALDS to the New York Yankees.
The Indians, who won 102 games, will bring back an offensive core of shortstop Francisco Lindor (33 HR, 89 RBIs), designated hitter Edwin Encarnacion (38 HR, 107 RBIs) and second baseman Jose Ramirez (.318 average, 29 HR, 83 RBIs), who are all signed for 2018.
Cleveland does have some free-agent decisions to make, with in-season acquisition Jay Bruce and Carlos Santana the most pressing issues. Bruce had an OPS of .808 after coming over from the Mets in August while Santana was solid again in his eighth year with the club.
The Indians also have a decision looming on outfielder Michael Brantley, who has an $11 million option due this offseason that can be bought out for $1 million. Brantley was a mainstay in the Indians' lineup from 2012-2015 but has missed much of the last two seasons with injuries. The 30-year-old went 1-for-11 in the ALDS.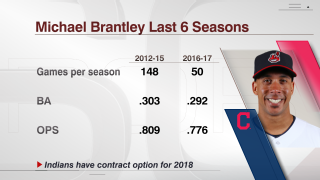 Perhaps the biggest obstacle for the Indians in 2018 isn't the roster, but their postseason demons. The Indians blew a 3-1 lead in the World Series last year before watching a 2-0 series lead against the Yankees go up in smoke.
The Indians figure to be in the mix once again next year, but whether they can finally get over the hump is a different story.