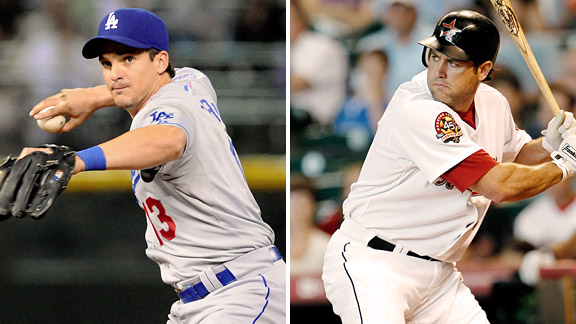 Icon SMI
Ryan Theriot and Lance Berkman lacked in performance in 2010, but the Cardinals will give them a chance to bounce back.
There were lots of huge moves in the majors last week, but our weekly review focuses on a couple of new Cardinals, and a thankful Rockies pitcher, along with a quick farewell to Adrian Gonzalez.
Cardinals sacrificing defense, hoping for more punch
With their acquisitions of shortstop Ryan Theriot and outfielder Lance Berkman this week, the Cardinals made a strategic choice to prioritize offense over defense at two lineup spots for 2011.
Theriot is the likely replacement for shortstop Brendan Ryan, who posted the lowest OPS in baseball last season (.573), though Theriot's .633 was only a couple of spots better. But there is a significant defensive downgrade to consider.
A Major Drop
Both Lance Berkman and Ryan Theriot experienced significant statistical declines from 2009 to 2010.
Ryan ranked as the best fielding shortstop in the majors, leading all players with 27 defensive runs saved. In limited action at shortstop in 2010, Theriot cost his team five runs, though he did rate slightly above average from 2007 to 2009.
Ryan specialized on balls hit to the shortstop-third base hole, rating plus-20 on them in 2009 and plus-30 in 2010 according to Baseball Info Solutions' plus-minus metric.
That meant he turned 50 more balls into outs than an average shortstop would have in the same time period. In the 1,500+ innings that Theriot played shortstop over the last two seasons, he rated a minus-4 on balls hit into that hole.
That could be trouble given the ground-ball tendency of Cardinals pitchers. Last season, they had the second-highest groundball percentage in the majors.
Translation: If the Cardinals want to play Theriot regularly, they'd do well to have a third baseman who can get to balls to his left -- something they didn't previously have to worry about too much.
Berkman's defense in the outfield may not have as big of a negative impact as it seems, given those ground-ball tendencies. The last season he played in right field was 2007 and in 230 innings, he had a plus-minus rating of minus-4. He'll be joining a Cardinals outfield that rated in the upper-half of National League teams in both runs saved and plus-minus.
Much like we noted earlier this winter regarding Braves fans getting used to cheering for Dan Uggla (who owned them), Cardinals fans will have to get used to cheering for Berkman.
Berkman leads active players in home runs (39) and RBI (118) against the Cardinals. His .415 OBP ranks fourth-best and his .601 slugging percentage ranks fifth-best against them among active players (minimum 150 PA). His 169 home runs and 540 RBI against NL Central opponents are the 3rd-most since divisional realignment in 1994.
–- Katie Sharp and Mark Simon
Rockie-Solid?
Most starting pitchers who net a multi-year free agent contract for $10 million or more have lengthy histories of durability and success. But not seven-year veteran Jorge De La Rosa.
$10+ Million Per Yr, Multi-Year Deal
Pitcher Free Agent Signings since 07-08
De La Rosa still has the equivalent of a baseball bucket list as he heads into the first of two guaranteed seasons with the Rockies at a guaranteed $21.5 million. He's never finished a season with an ERA under 4.00, never posted an ERA+ of 120 or better (meaning his ERA, adjusted for ballpark, was never 20 percent better than the rest of the majors), and only once pitched 150 innings in a season.
De La Rosa, much like Troy Tulowitzki might consider himself thankful for the Rockies generosity.
–- Mark Simon
Going, Going, Gonzo
A few last numbers by which to remember Adrian Gonzalez, the Padre:
0.17–- Gonzalez's Win Probability Added in September/October, 2010, 39th-best in the NL, fourth-best among Padres (San Diego hit .229 in September, hurting the number of chances Gonzalez had to make an impact)
16–- "Just enough" home runs hit by Gonzalez in 2010, most in the majors according to Hit Tracker Online (homers that cleared by less than 10 feet)
47–- Home runs at home since 2007, tied for 43rd-most in the majors
161–- Home runs as a Padre, two shy of Nate Colbert's team record
–- Derek Czenczelewski, Katie Sharp, Mark Simon